Pet Lover's Guide to First Aid and Emergencies
,
Paperback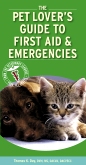 Free Shipping!
This item has low stock levels and may be back-ordered. We'll let you know if it is back-ordered, and you will not be charged until the item ships.
Part of the Pet Lover's Guide series, this volume describes how to recognize an emergency — including surveying the pet and assessing the scene. A list of emergency situations and how to respond is included. The book offers an alphabetical list of both major and minor emergencies, their causes, signs, and first aid treatment. Both dogs and cats are included in each general category. In addition, the book describes CPR and includes suggestions for a pet first-aid kit, including which human drugs may be used on pets.
Full-color line art and photographs demonstrate animal behavior, how to take pulses and heart rates, and pressure points. Other illustrations depict transport of a trauma patient, basic CPR techniques, types of bandages, allergic reactions, open-mouth breathing, and methods of cooling for heatstroke.
Special boxes labeled "Where We Stand" present the author's strong opinions on specific (sometimes controversial) issues in a highlighted, easy-to-find format.
Key terms are highlighted, making them easy to locate and reference — these terms are also included in the glossary with clear, simple definitions.
Important information is bulleted and placed in a shaded box, bringing the main points to the reader's attention in a quick and useful way.
Detailed list of emergency situations and proper responses shows how to do a complete and thorough examination of causes and signs, plus first-aid treatment, in a concise and user-friendly format.
Emergencies are alphabetically listed and divided by species, enabling quick access to critical information and to appropriate actions.
Clear readability makes information easily accessible to pet owners, helping them provide appropriate first aid to pets before medical attention from a veterinarian can be obtained.
Written by established, recognized veterinarians, this book is a reliable source for veterinary professionals.

1. What is normal in your pet?
2. Learning to recognize an emergency
3. Emergency situations and what to do (and what NOT to do)
a. trauma
i. Hit by car
ii. Gunshot would
iii. Fight with another animal
iv. Falling from a height
b. difficulty breathing
c. seizures
d. cuts and gashes
e. excessive bleeding
f. snake or insect bites
g. heat stroke
h. poisoning
i. shock
j. open wounds with or without exposed bones, etc.
k. burns
l. etc.
4. How to perform CPR
5. Specific emergencies (examples) – alphabetical listing
a. Abrasions (cuts and scrapes)
i. Causes
ii. Signs
iii. First Aid
b. Balance, loss of
i. Causes
ii. Signs
iii. First aid
c. Back, broken
i. Causes
ii. Signs
iii. First aid
d. etc.
6. First Aid Kit

Tom Day, DVM, MS, DACVA, DAVCECC, Louisville Veterinary Specialty and Emergency Services, Louisville, KY