Pet Lover's Guide to Natural Healing for Cats and Dogs
,
Paperback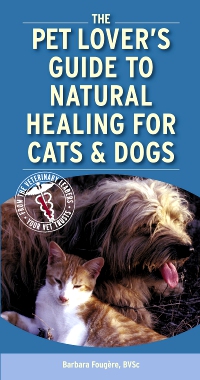 Free Shipping!
In Stock
This item has low stock levels and may be back-ordered. We'll let you know if it is back-ordered, and you will not be charged until the item ships.
Part of the Pet Lover's Guide series, this volume presents detailed information on alternative therapies for both dogs and cats. Written in a clear, simple manner, the book is divided into three main parts. Part 1, on diet and natural therapies, addresses the importance of diet for pets, and discusses the pros and cons of both commercially available and homemade diets. It also covers the basic explanations of the various alternative therapies widely used by holistic veterinarians and readily available to pet owners (e.g., supplements and herbs, acupuncture, homeopathy, chiropractic and other manual healing). Part 2 makes recommendations for specific health conditions, such as skin problems or digestive tract problems, and describes how various alternative therapies are used alone or in combination with allopathic therapies to treat or relieve the condition. Finally, Part 3 offers an overview of health maintenance and preventive health, and includes information about vaccinations, flea and tick control, weight control, and caring for the aging pet.
Full-color line art and photographs illustrate various plants and herbs, and also techniques such as manual therapies, massage, and other hands-on healing techniques in a user-friendly and easily identifiable manner.
Special boxes labeled "Where We Stand" present the author's strong opinions on specific (sometimes controversial) issues in a highlighted, easy-to-find format.
Key terms are highlighted, making them easy to locate and reference — these terms are also included in the glossary with clear, simple definitions.
Important information is bulleted and placed in a shaded box, bringing the main points to the reader's attention in a quick and useful way.
Clear readability makes information easily accessible to pet owners, helping them to better understand natural therapies and their uses in treating pets. It also enables veterinarians to carry the book in their practices and recommend it to clients.
Written by established, recognized veterinarians, this book is a reliable source for veterinary professionals.

1. Natural Therapies For Your Pet

Why Use Natural Therapies?
So What's Different About Holistic Medicine?
Health and Well-Being Of Your Pet
Signs of Poor Health In Animals
The Urban Pet and Free Radicals
Stress and Health

2. Practical Steps to Prevent Disease and Improve Well-Being

The Annual Exam
How "Old" Is Your Pet Compared With Humans?
10-Point Home Health Check
When to Take Your Pet to The Veterinarian
Improving Health
10 Steps to Greater Well-Being And Health

3. Holistic Nutrition

Nutrition Basics
Classes of Nutrients
What to Feed

4. Nutrition Boosters

Starting With Supplements

5. Herbs

Herb Safety
Using Herbal Medicines
Herbal Preparations
Dosages
A Pet Herbal Home Pharmacy
Herbal Material Medica
Indoor Herb Garden for Cats

6. Physical Therapies

Acupuncture and Acupressure
Trigger Point Therapy
Chiropractic
Physical and Rehabilitation Therapy
Hands-On Healing

7. Homeopathy

The Principles of Homeopathy

8. Bach Flower Remedies

Preparation
Dosage Choosing the Remedies
Aromatherapy (Dogs Only)

9. Recommendations

Guidelines
Treatment Options

10. Detoxification Program

Some General Principles
Toxins
Leaky Gut Syndrome (LGS)
Dysbiosis
Vaccination
A Naturopathic Approach to Chronic Disease
Natural Therapies for Dysbiosis And Leaky Gut Syndrome
Repair
Tonics
Corticosteroid Use
Basic Detoxification Program
Short-Term Modified Fast Of 1-3 Days
Bowel Detoxification
Liver Detoxification
When to See Your Veterinarian
What to Ask Your Veterinarian

11. Skin and Coat

Maintaining Skin and Coat Health
Signs of Skin Disease
Long-Term or Recurrent Skin Problems
What You Can Do
Therapies to Consider Seeking If Problems Persist
Itchy and Overgrooming Cats
Itchy Dogs
Dog Skin Allergies
Bacterial Skin Disease and Hot Spots
Yeast or Malassezia Dermatitis Of Dogs
Dry Skin and Dandruff
Cat Acne
Hair Loss and Shedding
Blocked Anal Glands
Lick Granulomas
Doggy Odor
Demodectic Mange
Wounds, Stings, and Trauma

12. Digestive System

Maintaining A Healthy Digestive System
Chronic Digestive Problems and Inflammatory Bowel Disease
Food Allergies
Dental Health and Dental Disease
Bad Breath
Acute Diarrhea
Coprophagy-Eating "Poo"
Constipation
Flatulence
Chronic Vomiting
Liver Disease
Pancreatic Problems
Diabetes

13. Ears and Eyes

Ears
Eyes

14. The Immune System

Stress
Immune Deficiency
Allergies
Autoimmune Disease
Feline Infections Peritonitis (FIP)
Feline Immunodeficiency Virus (FIV)
Feline Leukemia Virus (Felv)
Cancer
Lymphatic System and Spleen Health
Infections and Antibiotic Use

15. Disorders of the Grandular System

Diabetes
Adrenal Gland Health and Stress
Addison's Disease
Cushing's Syndrome
Hypothyroid Disease
Hyperthyroid Disease

16. Muscles, Bones, and Joints

Pain
Maintaining Muscle Strength and Function
How to Prevent Injuries In Dogs
Arthritis-Osteoarthritis, Degenerative Joint Disease and Osteochondrosis
Hip Dysplasia
Lyme Disease
Leg Injuries
Myopathy

17. The Spine and Nervous System

The Nervous System
Vestibular Syndrome In Senior Dogs And Cats
Nerve Paralysis
Epilepsy and Seizures
Head Injuries And Brain Problems
Cognitive Disorder or Senility In Older Animals
Back Pain and Spinal Problems
Disk Disease, Protrusion; Prolapsed, Slipped Disk
Wobbler Syndrome: Cervical Vertebral Instability
Degenerative Myelopathy

18. Cardiovascular and Respiratory Systems

Maintaining Health
The Cardiovascular System
The Respiratory System

19. The Urinary Tract and Reproductive System

Maintaining Urinary Tract Health
Bladder Infection-Cystitis
Bladder Stones-Urolithiasis
Xanthine
Incontinence (Bladder)
Feline Lower Urinary Tract Disease (FLUTD, Also Known As FUS)
Kidney Disease
Female Reproductive System
Female Infertility
False Pregnancy
Mastitis
Pyometra or Metritis
Male Infertility
Prostrate Disorders

20. Behavior

Dogs
Cats

21. Maintaining Optimal Health

Routine Health Care
Weight Control
Vaccination
Heartworm Prevention
Flea and Tick Control
Aging
Surgery or Hospitalization: Preparation and Recovery

References
Appendix Elimination Diets
Glossary

Barbara Fougere, BVSc, BVMS(Hons), Acupuncture and Natural Therapies, Rozelle, New South Wales, Australia