AACN Advanced Critical Care Nursing
,
Hardcover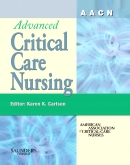 Free Shipping!
This item has low stock levels and may be back-ordered. We'll let you know if it is back-ordered, and you will not be charged until the item ships.
From AACN experts comes a resource dedicated to helping you oversee or care for critical care patients in any practice setting. This comprehensive critical care nursing textbook addresses serious and potentially life-threatening patient conditions with a foundation rooted in the critical thinking process: the comprehension, analysis, synthesis, and application of knowledge.
Endorsed by the American Association of Critical-Care Nurses (AACN), the largest specialty nursing organization in the United States, for the most authoritative coverage available.
Thorough discussions of each body system emphasize advanced concepts, presenting physiology in an application format that examines the clinical implications of physiological science.
Coverage of assessment focuses on interpreting abnormal findings and linking those findings to diagnosis and intervention.
Appropriate interventions are discussed from an interdisciplinary, evidence-based perspective.
Hundreds of new, full-color illustrations and design clarify important concepts and improve the book's usability.
Complex, unfolding case studies are presented in all disease chapters, accompanied by review questions with a comprehensive answer key.
Multidisciplinary Plans of Care provide at-a-glance information for common ICU conditions.
Nutrition boxes appear in each relevant chapter, offering guidelines for patient needs with specific illnesses.
Research-Based Practice Guidelines boxes and Promoting Evidence-Based Practice features appear throughout the text whenever applicable to present the latest research-supported nursing assessment and intervention practices.
Drug boxes include common classifications of critical care drugs for specific disorders, including drug, actions, dosage, and special considerations.
Applying the Technology features help you apply the latest technology to patient care.
NIC Interventions boxes list NIC intervention labels appropriate for the conditions discussed in a chapter.

UNIT I: PRACTICE IN TODAY'S CRITICAL CARE ENVIRONMENT

1. The Critical Care Environment

2. Alternate Settings for Critical Care

3. Comorbid Conditions

UNIT II: ELEMENTS OF CARE

4. Pain and Sedation

5. Symptom Management

-Diarrhea

-Vomiting/Nausea

-Dyspnea

6. Nutrition

7. Thermoregulation

-Hypothermia

-Hyperthermia

8. Families in Critical Care

9. Improving Outcomes through Prophylaxis

UNIT III: CARDIAC

10. Advanced Arrhythmias

11. Acute Coronary Syndromes

12. Heart Failure

13. Heart Disease in Women

14. Cardiac Surgery

15. Valvular Disease and Surgery

16. Vascular Emergencies

17. Cardiomyopathy

18. Heart and Lung Transplantation

UNIT IV: PULMONARY

19. Acute Respiratory Failure and Acute Lung Injury

20. Mechanical Ventilation and Weaning

21. Thoracic Surgery

UNIT V: NERVOUS SYSTEM

22. Head Injury and Dysfunction

23. Cerebral Vascular Disorders

24. Spinal Cord Injury

25. Special Neurologic Patient Populations

UNIT VI: GASTOINTESTINAL

26. Gastrointestinal Bleeding

27. Liver Dysfunction and Failure

28. Pancreatitis

29. The Gut in Critical Illness

30. Liver, Kidney, and Pancreas Transplantation

UNIT VII: RENAL

31. Electrolyte Emergencies

32. Complex Acid-Base Disorders and Associated Electrolyte Imbalances

33. Acute Renal Failure

UNIT VIII: ENDOCRINE

34. Glycemic Control

35. Pituitary, Thyroid, and Adrenal Disorders

UNIT IX: HEMATOLOGIC

36. Blood Conservation and Blood Component Replacement

37. Coagulopathies

UNIT X: IMMUNE (CRITICAL CARE IMMUNOLOGY

38. Caring for the Immunocompromised Patient

39. Bone Marrow Transplantation

UNIT XI: MULTISYSTEM DISORDERS

40. Shock and Endpoints of Resuscitation

41. Optimizing Hemodynamics: Strategies for Fluid and Medication Titration in Shock

42. Trauma

43. Systemic Inflammatory Response Syndrome and Multiple Organ Dysfunction Syndrome

44. Burns

45. Mass-Casualty Competencies

UNIT XII: SPECIAL PATIENT POPULATIONS

46. Caring for the Patient in the Immediate Postoperative Period

47. Caring for the Critically Ill Pregnant Patient

48. Caring for a Pediatric Patient in an Adult Critical Care Unit

49. Caring for the Critically Ill Elderly Patient

50. Caring for the Critically Ill Patient with a Psychiatric Disorder

51. Caring for the Bariatric Patient

52. Oncologic Emergencies

53. Chemical Dependency

54. End-of-Life Care

AACN, AACN and Karen K. Carlson, RN, MN, CCNS, Critical Care Clinical Nurse Specialist, Carlson Consulting Group, Bellevue, WA; Clinical Faculty, Department of Biobehavioral Nursing, University of Wahington, Seattle, WA