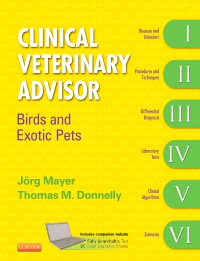 Clinical Veterinary Advisor: Birds and Exotic Pets
,
Hardcover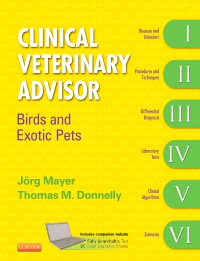 This item has low stock levels and may be back-ordered. We'll let you know if it is back-ordered, and you will not be charged until the item ships.
Providing accurate, at-a-glance information on managing the diseases of birds and exotic pets, Clinical Veterinary Advisor: Birds and Exotic Pets is the only comprehensive resource on the market covering birds, reptiles, small mammals, and other non-traditional pets. Concise summaries of hundreds of common medical problems help your students learn differential diagnoses, recommend consider differential diagnoses, recommend diagnostic tests, interpret results mindful of unique species differences, utilize important concepts of species-specific husbandry and nutrition, prescribe treatments, and provide follow-up care. With contributions from recognized avian and exotics experts and edited by Jörg Mayer and Thomas M. Donnelly, this clinical reference provides all the information that veterinarians need in one book!
Six-books-in-one format includes six separate sections: Diseases and Disorders, Procedures and Techniques, Differential Diagnosis, Laboratory Tests, Clinical Algorithms, and Zoonoses.
In-depth, cutting-edge coverage includes all exotic species — birds, reptiles, pocket pets, amphibians, and fish — in one comprehensive resource.
Concise summaries feature a definition of each problem, epidemiology, physical findings and clinical presentation, etiology, differential diagnosis, diagnostic workup (such as laboratory tests and imaging studies), treatment, prognosis and patient follow-up, zoonotic potential, and references.
Diagnostic and treatment algorithms provide easy-to-follow, step-by-step guidance to clinical assessment and treatment planning.
A companion website includes the complete text from the book, making the entire contents fully searchable, along with 250 full-color illustrations, client handouts, and the ability to print out any pages.

Section I: Diseases and Disorders

INVERTEBRATES

Abscesses/Granulomas

Alopecia

Bacterial Diseases

Dehydration

Dysecdysis

Fungal Infections, Superficial and Systemic

Infectious Diseases of Acroporid Corals

Intoxication

Mites (Acarii)

Panagrolaimidae Oral Nematodes in Tarantulas

Trauma

Viral Diseases

FISH

Bacterial Diseases

Dropsy

Ectoparasites, Crustacean

Flukes (Monogenean Parasites)

Fungal Diseases

Gastrointestinal Nematode and Cestode Parasites

Gastrointestinal Protozoal Parasites

Head and Lateral Line Erosion (HLLE)

Koi Herpes Virus Infection (KHV)

Lymphocystis

Protozoal Ectoparasites (Ciliated and Flagellated)

Spring Viremia of Carp (SVC)

Swim Bladder Disease

Trauma and Wound Management

Ulcer Disease in Koi

Viral Diseases

Viral Epidermal Hyperplasia (Carp Pox)

Water Quality and Pet Fish Health

AMPHIBIANS

Ammonia Toxicosis

Amoebiasis

Chromomycosis

Cloacal Prolapse

Coccidiosis

Corneal Lipidosis or Xanthomatosis

Flagellate Enterocolitits

Gastrointestinal Foreign Body or Overload

Hypovitaminosis A

Mycobacteriosis

Nematodiasis

Nutritional Secondary Hyperparathyroidism

Saprolegniasis

Septicemia

Trauma and Wound Management

Vomiting

Weight Loss

REPTILES

Abscesses

Adenovirus Infection

Aggression

Bacterial Dermatitis

Calicivirus Infection

CANV/Fungal Disease

Cardiac Disease

Chlamydophilosis

Cloacal Prolapse

Coccidiosis

Cryptosporidiosis

Dermatomycosis

Dermatophilosis (Rain Rot)

Diarrhea

Dysecdysis

Ectoparasites

Entamoebiasis

Gout

Hepatic Lipidosis

Herpesvirus Infections

Hyperglycemia

Hypervitaminosis A

Hypovitaminosis A

Inclusion Body Disease of Snakes

Iridovirus Infection

Liver Disease

Mycobacteriosis

Mycoplasma

Nematodiasis

Nutritional Secondary Hyperparathyroidism (NSHP)

Orthopedics and Fracture Repair

Paramyxovirus Infection

Paraphimosis

Pentastomes

Periodontal Disease

Proliferative Spinal Osteoarthropathy

Regurgitation/Vomiting

Renal Disease

Reovirus Infections

Respiratory (Lower) Tract Disease/Pneumonia

Salmonella

Stomatits, Bacterial

BIRDS

Abscesses

Anemia

Anorexia

Ascites

Aspergillosis

Cardiac Disease

Central Nervous System Signs and Neurologic Conditions

Chlamydophila psittaci

Chronic Egg Laying

Cloacal Prolapse

Conjunctivitis

Constipation (Ileus)

Crop Stasis

Dehydration

Diarrhea

Dystocia

Ectoparasitism

Edema, Soft Tissue

Emaciation

Enteritis

Feather Picking

Follicular Stasis

Foreign Bodies

Fractures

Gout

Heavy Metal Toxicity

Hepatic Lipidosis

Hypocalcemia

Hypovitaminosis

Liver Disease

Megabacteriosis

Mycoses

Neurologic Disease

Ocular Lesions

Organophosphate Toxicity

Overgrown Beak and Claws

Papillomas

Pneumonia

Pododermatitis

Polytetrafluoroethylene (Teflon) Toxicity

Proventricular Dilatation Disease

Regurgitation/Vomiting

Renal Disease

Sinusitis, Chronic

Trauma

Tumors

Uropygeal Gland Disease Conditions

Viral Diseases

SMALL MAMMALS

Rats

Chromodacryorrhea

Mammary and Pituitary Tumors

Renal Disease

Respiratory Tract Disease, Acute

Respiratory Tract Disease, Chronic

Skin Diseases

Guinea Pigs

Anorexia

Cheilitis

Dental Disease

Gastric Dilatation and Volvulus

Hyperthyroidism

Hypovitaminosis C

Intestinal Disorders

Neurological Disorders

Ocular Disorders

Ovarian Cysts

Pododermatitis

Pregnancy and Parturient Disorders

Perineal Sac Impaction or Rectal Impaction

Respiratory Tract Disease

Skin Diseases

Strep Zooepidemicus

Urolithiasis

Uterine and Vaginal Disorders

Hamsters

Andominal Distension

Cardiac Disease

Cheek Pouch Disorders

Dental Disease

Intestinal Disorders

Ocular Disorders

Renal Disease

Skin Diseases

Gerbils

Ovarian Disease

Chinchillas

Cardiac Disease

Dental Disease

Fur Disorders

Gastrointestinal Disorders

Ocular Disorders

Penile Disorders

Prairie Dogs

Odontoma

Degus

Behavioral Disorders

Dental Disease

Diabetes Mellitus

Hedgehogs

Cardiomyopathy

Neoplasia

Skin Diseases

Wobbly Hedgehog Syndrome

Sugar Gliders

Behavioral Disorders

Nutritional Disorders

RABBITS

Abscesses

Anorexia

Arthritis

Behavioral Disorders

Buphthalmia and Glaucoma

Cardiovascular Disease

Cataracts

Cherry Eye

Coccidiosis

Conjunctival Disorders

Cutaneous Masses

Dacryocystits and Epiphora

Dental Disease

Dermatopathies

Dysautonomia (Grass Sickness)

Ectoparasites

Electrocution

Encephalitis

Encephalitizoonosis

Endoparasites

Floppy Rabbit Syndrome

Gastric Disorders

Hemorrhagic Disease

Hepatic Disorders

Intestinal Disorders

Lower Respiratory Tract Disorders

Lower Urinary Tract Disorders

Lymphosarcoma

Mammary Gland Disorders

Myxomatosis

Obesity

Otitis

Pasteurellosis

Pododermatitis

Pregnancy Toxaemia

Pseudopregnancy

Renal Disorders

Splay-Leg

Staphylococcosis

Testicular Tumors

Thymoma

Treponematosis

Upper Respiratory Tract Disorders

Uterine Disorders

Uveitis

Vestibular Disease

Joerg Mayer, Dr.med.vet., M.Sc. Dip. ABVP (exotic companion mammal), DECZM (small mammal), Associate Professor of Zoological Medicine,
Department of Small Animal Medicine & Surgery, College of Veterinary Medicine,
University of Georgia, Athens, GA and Thomas M. Donnelly, BVSc, DACLAM, Warren Institute, Ossining, NY, USA
This item has low stock levels and may be back-ordered. We'll let you know if it is back-ordered, and you will not be charged until the item ships.