Physical Examination and Health Assessment DVD Series: DVD 10: Neurologic: Cranial Nerves and Sensory System, Version 2
,
DVD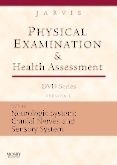 Free Shipping!
This item has low stock levels and may be back-ordered. We'll let you know if it is back-ordered, and you will not be charged until the item ships.
Video 10 from the Jarvis Physical Examination and Health Assessment Video Series begins with an anatomical review of the central and peripheral nervous systems, cranial nerves, spinal nerves, and sensory pathways. After describing preparation for the examination, it demonstrates how to assess all twelve cranial nerves, grouping them by function and exam technique. Then it shows how to examine the sensory system, including assessments of pain, temperature, and light touch sensation as well as assessments of vibration and tactile discrimination. It ends with a health promotion scenario on teaching about diabetic foot care.
Bonus materials include:

Health history topics about the neurologic system
A list of equipment for examining the cranial nerves and sensory system
One cross-cultural scene about populations at risk for cerebrovascular accident
Two developmental scenes about testing cranial nerves III, IV, and VI in children, and vibration sensation in older adults
One health promotion scenario about foot care for people with diabetes
A list of patient-teaching topics, ranging from protection against occupational hazards to headache relief techniques

Carolyn Jarvis, PhD, APN, CNP, Professor, School of Nursing, Illinois Wesleyan University; Nurse Practitioner, Community Health Care Clinic, Bloomington, Illinois