Physical Examination and Health Assessment DVD Series: DVD 1: Neurologic: Motor System and Reflexes, Version 2
,
DVD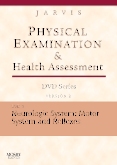 Free Shipping!
This item has low stock levels and may be back-ordered. We'll let you know if it is back-ordered, and you will not be charged until the item ships.
Video 1 from the Jarvis Physical Examination and Health Assessment Video Series begins with a review of the corticospinal and extrapyramidal tracts, the cerebellar system, and the reflex arc. The motor system examination shows how to assess the muscles and cerebellar function by testing balance, coordination, and skilled movements. The reflex examination provides general guidelines and then demonstrates how to elicit deep tendon reflexes in the arms and legs as well as common superficial reflexes.
Bonus materials include:

Health history topics about the neurologic system
A list of equipment for examining the cranial nerves and sensory system
One cross-cultural scene about populations at risk for cerebrovascular accident and multiple sclerosis
Three developmental scenes about gait variations and reflexes in older adults, and altered plantar reflexes in infants
One health promotion scenario as an overview of the topic
A list of patient-teaching topics, ranging from protection against head injury to aura recognition and seizure management

Carolyn Jarvis, PhD, APN, CNP, Professor, School of Nursing, Illinois Wesleyan University; Nurse Practitioner, Community Health Care Clinic, Bloomington, Illinois