Small Animal Clinical Techniques
,
Paperback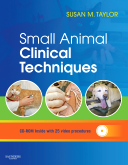 Free Shipping!
This item has low stock levels and may be back-ordered. We'll let you know if it is back-ordered, and you will not be charged until the item ships.
With step-by-step instructions for 53 procedures, this must-have text includes everything you need to learn the techniques you need for everyday practice. The text and Companion CD work together to cover sample collection and handling procedures with photographs, illustrations, and video and make procedures easy to understand.
Complete descriptions of each procedure help you perform the skill with the level of competency required for the job.
A consistent approach to all procedures with step-by-step instructions, principles, and photographs allows you to think logically and perform the skills well.
Full-color design includes over 600 drawings and photographs to reinforce visual understanding of key concepts.
Companion CD features narrated video, photos, and drawings for most procedures in the book to help you put techniques into practice.
Expert author shares her years of expertise in education, veterinary medicine, and writing to provide a valuable learning tool.

Chapter 1 VENOUS BLOOD COLLECTION

Chapter 2 ARTERIAL BLOOD COLLECTION

Chapter 3 INJECTION TECHNIQUES

Chapter 4 DERMATOLOGIC TECHNIQUES

Chapter 5 EAR EXAMINATION

Chapter 6 OCULAR TECHNIQUES

Chapter 7 RESPIRATORY SYSTEM TECHNIQUES

Chapter 8 PERICARDIOCENTESIS

Chapter 9 GASTROINTESTINAL SYSTEM TECHNIQUES

Chapter 10 URINARY SYSTEM TECHNIQUES

Chapter 11 VAGINAL CYTOLOGY

Chapter 12 BONE MARROW COLLECTION

Chapter 13 ARTHROCENTESIS

Chapter 14 CEREBROSPINAL FLUID COLLECTION

List of Procedures

Procedure 1-1 JUGULAR VENIPUNCTURE

Procedure 1-2 JUGULAR VENIPUNCTURE, INVERTED TECHNIQUE

Procedure 1-3 CEPHALIC VENIPUNCTURE

Procedure 1-4 LATERAL SAPHENOUS VENIPUNCTURE

Procedure 1-5 MEDIAL SAPHENOUS VENIPUNCTURE

Procedure 2-1 COLLECT ARTERIAL BLOOD FROM THE FEMORAL ARTERY

Procedure 2-2 COLLECT ARTERIAL BLOOD FROM THE DORSAL PEDAL ARTERY

Procedure 3-1 INTRAVENOUS INJECTIONS

Procedure 3-2 INTRAMUSCULAR INJECTIONS

Procedure 3-3 SUBCUTANEOUS INJECTIONS

Procedure 4-1 SKIN SCRAPING

Procedure 4-2 CELLOPHANE TAPE METHOD

Procedure 4-3 VACUUMING

Procedure 4-4 BACTERIAL CULTURE OF SKIN PUSTULE

Procedure 4-5 SKIN BIOPSY

Procedure 4-6 WOODS LAMP EXAMINATION

Procedure 5-1 EAR EXAMINATION

Procedure 6-1 SCHIRMER TEAR TEST

Procedure 6-2 CONJUNCTIVAL CULTURE

Procedure 6-3 FLUORESCEIN STAINING

Procedure 6-4 FLUSHING THE NASOLACRIMAL DUCTS

Procedure 6-5 APPLYING TOPICAL MEDICATIONS IN THE EYE

Procedure 6-6 CONJUNCTIVAL SCRAPINGS

Procedure 7-1 RESPIRATORY EXAMINATION AND AUSCULTATION

Procedure 7-2 INTERNAL NASAL EXAMINATION

Procedure 7-3 PHARYNGEAL EXAMINATION

Procedure 7-4 LARYNGEAL EXAMINATION

Procedure 7-5 TRANSTRACHEAL WASH – SMALL AND LARGE DOG

Procedure 7-6 SMALL DOG TRANSTRACHEAL WASH

Procedure 7-7 LARGE DOG TRACHEAL WASH

Procedure 7-8 ENDOTRACHEAL WASH

Procedure 7-9 BRONCHOSCOPIC BRONCHOALVEOLAR LAVAGE (BAL)

Procedure 7-10 LUNG ASPIRATION

Procedure 7-11 THORACOCENTESIS

Procedure 8-1 PERICARDIOCENTESIS

Procedure 9-1 ORAL EXAMINATION

Procedure 9-2 OROGASTRIC INTUBATION (PASSING A STOMACH TUBE)

Procedure 9-3 NASOGASTRIC INTUBATION

Procedure 9-4 ANAL SAC PALPATION AND EXPRESSION

Procedure 9-5 PERCUTANEOUS TRANSABDOMINAL LIVER BIOPSY

Procedure 9-6 FINE NEEDLE ASPIRATION BIOPSY OF THE LIVER

Procedure 9-7 ABDOMINOCENTESIS

Procedure 9-8 DIAGNOSTIC PERITONEAL LAVAGE (DPL)

Procedure 10-1 URINE COLLECTION BY CYSTOCENTESIS

Procedure 10-2 URINARY CATHETERIZATION: MALE CAT

Procedure 10-3 URINARY CATHETERIZATION: MALE DOG

Procedure 10-4 URINARY CATHETERIZATION: FEMALE DOG

Procedure 10-5 PROSTATIC WASH

Procedure 11-1 OBTAINING VAGINAL SAMPLES

Procedure 12-1 BONE MARROW ASPIRATION

Procedure 12-2 BONE MARROW CORE

Procedure 13-1 ARTHROCENTESIS

Procedure 14-1 CEREBROSPINAL FLUID COLLECTION

Susan Meric Taylor, DVM, Diplomate ACVIM, Professor of Small Animal Medicine, Department of Small Animal Clinical Sciences, Western College of Veterinary Medicine, University of Saskatchewan, Saskatoon, Saskatchewan