Medicine: A Competency-Based Companion
,
Paperback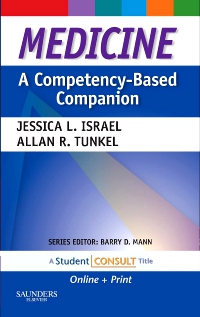 Free Shipping!
In Stock
This item has low stock levels and may be back-ordered. We'll let you know if it is back-ordered, and you will not be charged until the item ships.
Complete, yet concise, Medicine: A Competency-Based Companion provides the core information you need to think like an experienced clinician during your medical rotation. This handy, pocket-sized medical reference book hones in on the must-know differential diagnoses of the common medical presentations and guides you through the most up-to-date and effective approaches to treatment, equipping you to excel.
Take it with you! A portable, pocket-sized format places high-yield core information essential to internal medicine rotations right in your lab coat.
Assess your progress with activities to promote retention and application of knowledge, including online access to your own competency-based portfolio tools and competency-specific learning modules (Vertical Reads).
Master ACGME Core Competencies to integrate evidence-based medicine, continual self-assessment, and cognizance of interpersonal skills into your daily routine.
Understand and assimilate critical concepts more easily with "Speaking Intelligently" and "Clinical Thinking" features in clinical chapters to help you see the "big picture."
Quickly access the most common and must-know internal medicine signs/symptoms and disorders, conveniently organized by presentation.
Grasp and retain vital information more easily thanks to "Teaching Visuals"—an interactive teaching device designed to reinforce visual concepts.
Perform a more in-depth review of internal medicine topics with "Clinical Entities" that are referenced to Andreoli and Carpenter's Cecil Essentials of Medicine, 8th edition.
Access the full contents online at www.studentconsult.com where you'll find the complete text and illustrations, "Integration Links" to bonus content in other Student Consult titles, an interactive community center with a wealth of additional resources, self-assessment competency log, vertical reads and much more!

Section I Introduction

Chapter 1 How to Study this Book

Chapter 2 The Competencies

Chapter 3 Tips for the Medicine Clerkship

Section II Ambulatory Internal Medicine

Chapter 4 Tips for Learning on the Ambulatory Clerkship

Chapter 5 Preventive Medicine

Chapter 6 Common Symptoms in Ambulatory Internal Medicine

Chapter 7 The Complex Patient

Section III Cardiovascular Diseases

Chapter 8 Chest Pain

Chapter 9 Congestive Heart Failure

Chapter 10 Palpitations and Arrhythmias

Chapter 11 Hypertension

Section IV Pulmonary Diseases

Chapter 12 Dyspnea

Chapter 13 Cough

Chapter 14 Hemoptysis

Chapter 15 Pulmonary Nodule

Section V Renal Diseases and Electrolyte Disorders

Chapter 16 Acute Kidney Injury

Chapter 17 Edema

Chapter 18 Acid-Base Disorders

Chapter 19 Abnormal Electrolytes

Chapter 20 Hematuria

Chapter 21 Dysuria

Chapter 22 Renal Mass

Section VI Gastrointestinal and Liver Diseases

Chapter 23 Abdominal Pain

Chapter 24 Nausea and Vomiting

Chapter 25 Esophageal Dysphagia

Chapter 26 Gastrointestinal Bleeding

Chapter 27 Constipation

Chapter 28 Diarrhea

Chapter 29 Jaundice

Section VII Hematologic Diseases

Chapter 30 Elevated Blood Counts

Chapter 31 Pancytopenia

Chapter 32 Excessive Bleeding or Clotting

Chapter 33 Lymphadenopathy and Splenomegaly

Section VIII Oncologic Diseases

Chapter 34 Breast Mass

Chapter 35 Prostate Mass

Chapter 36 Testicular Mass

Chapter 37 Neck Mass

Chapter 38 Pigmented Skin Lesions

Chapter 39 Incidentally Discovered Mass Lesions

Chapter 40 Oncologic Emergencies

Chapter 41 Paraneoplastic Syndromes

Section IX Endocrine Diseases

Chapter 42 Polyuria and Polydipsia

Chapter 43 Hypoglycemia

Chapter 44 Weight Gain and Obesity

Chapter 45 Weight Loss

Chapter 46 Amenorrhea

Chapter 47 Fragility Fracture

Section X Rheumatologic Diseases

Chapter 48 Acute Joint Pain

Chapter 49 Chronic Joint Pain

Section XI Infectious Diseases

Chapter 50 Rash

Chapter 51 Skin and Soft Tissue Infections

Chapter 52 Upper Respiratory Tract Infections

Chapter 53 Genital Ulcers

Chapter 54 Vaginitis and Urethritis

Chapter 55 Fever in the Hospitalized Patient

Section XII Neurologic Diseases

Chapter 56 Altered Mental Status

Chapter 57 Dementia

Chapter 58 Seizures

Chapter 59 Abnormal Movements

Chapter 60 Headache

Chapter 61 Dizziness and Vertigo

Chapter 62 Weakness

Section XIII Appendices

Appendix 1 How to Interpret a Chest Radiograph

Appendix 2 How to Interpret an Electrocardiogram

Jessica Israel, MD, Chief, Division of Geriatric and Palliative Medicine, Medical Director, Inpatient Hospice Unit, Monmouth Medical Center, Long Branch, New Jersey and Allan R Tunkel, MD, PhD, MACP, Professor of Medicine
Associate Dean for Medical Education
Brown University
Warren Alpert Medical School