Consultations in Feline Internal Medicine, Volume 6
,
Hardcover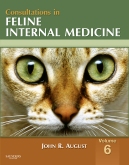 Free Shipping!
This item has low stock levels and may be back-ordered. We'll let you know if it is back-ordered, and you will not be charged until the item ships.
Completely revised and updated with 80 all-new chapters covering the most important information on current diagnostic, treatment, and preventive challenges facing feline practitioners today, Consultations in Feline Internal Medicine is an invaluable addition to every small animal clinician's library. Full-color illustrations and expert contributions help you master and apply the latest advances in feline nutrition, emerging diseases, pet overpopulation, advanced imaging, and more with a comprehensive, clinically relevant approach.
More than 100 worldwide leaders in small animal practice provide expert insight across the full spectrum of feline internal medicine.
Extensive references make it easy to find additional information about specific topics most important to your practice.

Current, evidence-based coverage reflects the latest findings and reports on pressing topics such as:

Upper Respiratory Tract Aspergillosis
Exocrine Pancreatic Insufficiency
Diagnostic Imaging of the Ear
Cardiac Blood Tests
Urological Interventional Techniques

A new section on feline nutrition highlights the impact of nutritional considerations on feline health.
A dynamic full-color design, incorporating hundreds of NEW illustrations and tables, clarifies concepts and helps you interpret clinical data.

SECTION 1 - INFECTIOUS DISEASES

1. Pyothorax: New Insights into an Old Disease

2. Influenza Infections

3. The Role of Wolbachia in Heartworm Infection

4. Cytauxzoon Infections

5. Sino-Orbital Aspergillosis: An Emerging Clinical Syndrome

6. Progress on Diagnosis of Retrovirus Infections

7. Diagnosis and Treatment of Feline Infectious Peritonitis

SECTION 2 - NUTRITION IN HEALTH AND DISEASE – NEW!

8. Dietary Therapy of Chronic Diarrhea

9. Dietary Therapy of Diseases of the Lower Urinary Tract

10. Metabolism, Diet, and Obesity

11. Probiotics

12. Critical Care Nutrition

13. Unconventional Diets

14. Nutritional Management of Chronic Kidney Disease

SECTION 3 - GASTROINTESTINAL SYSTEM

15. Gastrointestinal Function Testing

16. Imaging of the Gastrointestinal Tract

17. Diagnosis of Low-Grade Gastrointestinal Lymphoma

18. Protozoal Infections

19. Cholangiohepatitis

20. Exocrine Pancreatic Insufficiency

21. Antiemetic Therapy

22. Therapeutic Approach to Cats with Chronic Diarrhea

SECTION 4 - ENDOCRINE AND METABOLIC DISEASE

24. Hyperaldosteronism

25. Hyperthyroidism and the Kidneys

26. Monitoring of Diabetes Mellitus

27. New Long-Acting Insulins

28. Diabetic Emergencies

29. Acromegaly

SECTION 5 - DERMATOLOGY

30. Examining the Ear, Ear Canal, and Tympanic Membrane

31. Diagnostic Imaging of the Ear

32. Medical Management of Otitis

33. Rush and Conventional Immunotherapy

34. Methicillin-Resistant Staphylococcus Infections

35. Acne

36. Use of Interferon Omega for Skin Diseases

37. How to Treat Parasites without Killing the Patient

SECTION 6 - CARDIOLOGY AND RESPIRATORY DISORDERS

38. Cardiac Blood Tests

39. The Molecular Genetics of cardiomyopathy

40. Diastolic Heart Failure

41. Congenital Heart Disease

42. Diagnosis and Management of Rhythm Disorders

43. Pathology of Primary Myocardial Disease

44. Asthma

45. Bronchoscopy

SECTION 7 - URINARY SYSTEM

46. Petfood-Related Nephrotoxicities

47. Linking Staging to Treatment of Chronic Kidney Disease

48. Survival in Kidney Disease

49. Managing and Monitoring Hypertension

50. Those "Other" Stones: Managing Struvite and Urate Calculi

51. Urinary Tract Neoplasia

52. Urologic Interventional Techniques: Current Applications and Future Possibilities

SECTION 8 - NEUROLOGY

53. Intervertebral Disk Disease

54. Novel Anticonvulsant Therapies

55. Brain Tumors: Clinical Spectrum

56. Gene Therapy for Lysosomal Storage Disease

57. Tremor Syndromes

58. Metabolic Encephalopathy: Organic Acidurias

59. Myopathic Disorders

SECTION 9 - HEMATOPOIETIC AND LYMPHATIC SYSTEMS

60. Immune-Mediated hemolytic Anemia

61. Blood Types

62. Disseminated Intravascular Coagulation

63. Choosing Chemotherapy protocols for the Management of Lymphoma

64. Bone-Marrow Disorders

65. Plasma Cell Disorders

66. Erythropoeitin Therapy

SECTION 10 - ONCOLOGY

67. Mast Cell Disease

68. Cardiac Neoplasia

69. Tumors of the Ear

70. Ocular Tumors

71. Cytologic Dilemmas of the Lymph Node

72. Facilitating Client Grief

73. Administering Chemotherapy

SECTION 11 - POPULATION MEDICINE

74. Shelter Population Health Management

75. A Review of Spaying and Neutering

76. The State of Genetic Testing

77. Understanding Population Dynamics Models

78. Hospice in Cats

79. Alternate Therapies

80. Catteries: Reproductive Performance and Problems

John R. August, BVetMed, MS, MRCVS, Diplomate, ACVIM, Professor of Feline Internal Medicine, Department of Small Animal Clinical Sciences, College of Veterinary Medicine and Biomedical Sciences, Texas A & M University, College Station, TX