Clinical Skills Online for Medical Assistants
,
Online Course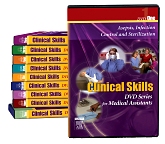 Or $0.00 with a valid access code
Set up as 10 individual modules divided into units with at least 10 video skills presentations each, Clinical Skills Online for Medical Assisting is specifically designed to help you visually master all of the clinical medical assisting skills you need. A medical assistant demonstrates proper technique to give you a consistent portrayal of all skills. Review questions and additional activities test your basic knowledge to see how much you've learned.

Duration for access to this product is for the life of the edition.
Presents a consistent process for each skill, including proper documentation techniques, to aid learning and memorization.
Includes Skill Variations to provide you with the option to observe the most common skills techniques used in their areas.
Spanish captioning provides easy access to translations from English to Spanish.
What If scenarios provide interviews with actual medical assistants to help you think about what you would do in the same situation.
An Instructor's Resource Manual available on Evolve provides outlines of times for each skill, a correlation grid of skills to CAAHEP and ABHES competencies, suggestions for effectively using the programs for in-class demonstrations and student self-study, and multiple-choice and open-ended assessment questions for each skill with answers and rationales.

Module One: Asepsis, Infection Control and Sterilization (9 Units / 13 videos)

Section 1: Asepsis

1.1.1 Personal Protective Equipment
1.1.2 Medical Aseptic Hand Wash
1.1.3 Applying Alcohol-Based Hand Rub
1.1.4 Applying And Removing Disposable Gloves
1.1.5 Disposal of Biohazard Waste

Section 2: Sanitization, Disinfection and Sterilization

1.2.1 Cleaning and Disinfecting Contaminated Surfaces
Variation: Large Spill
1.2.2 Sanitizing Contaminated Equipment
1.2.3 Wrapping Instruments and Placing in Autoclave
Procedure A: Wrapping Instrument Using Blue Wrap
Procedure B: Wrapping a Pack Used for Minor Surgery
Variation: Wrapping Using a Plastic Sterilization Pouch
1.2.4 Sterilizing Instruments in the Autoclave
Variation: Manual Autoclave

Module Two: Measuring Vital Signs (10 Units / 15 videos)

Section 1: Preparing to Work with Patients

2.1.1 Preparing to Work with Patients
Variation: Working with a Young Child

Section 2: Temperature

2.2.1 Measuring Oral Body Temperature
Variation: Rigid Plastic Probe
Variation: Mercury Free Glass Thermometer
2.2.2 Measure Axillary Body Temperature
2.2.3 Measure Rectal Body Temperature
2.2.4 Measure Aural Body Temperature
Procedure: Child Patient
Variation: Adult Patient

Section 3: Pulse and Respirations

2.3.1 Measuring Pulse and Respirations
2.3.2 Measure Apical Pulse
Procedure: Infant Patient
Variation: Adult Patient
2.3.3 Pulse Oximetry

Section 4: Blood Pressure

2.4.1 Measure Blood Pressure: Palpation
2.4.2 Measure Blood Pressure: Auscultation
Variation: With a Child Patient

Module Three: Preparing Patients for Examinations (9 Units / 11 videos)

Section 1: Maintaining and Preparing Exam Room

3.1.1 Cleaning Exam Room Between Patients
3.1.2 Daily Cleaning and Restocking Exam Room

Section 2: Working with Patients (Repeated -- Same as Module Two, Section 1)

Section 3: Body Measurements

3.3.1 Measuring Height and Weight
Variation: Height of a Child Using a Wall Scale
3.3.2 Measuring Length and Weight of an Infant
Variation: Measuring Infant Length with Tape Measure
3.3.3 Measuring Head and Chest Circumference of an Infant
3.3.4 Calculating Growth Percentiles

Section 4: Patient History & Undressing for the Exam

3.4.1 Obtaining Patient History
Procedure: New Patient
Variation: Established Patient
3.4.2 Undressing for the Exam
Procedure: Physical Exam
Variation: Follow-Up Exam

Module Four: Assisting with Patient Examinations (12 Units / 15 videos)

Section 1: Working with Patients (Repeated -- Same as Module Two, Section 1)

Section 2: Assisting with Examinations

4.2.1 The Physical Examination
4.2.2 Positioning the Patient

Section 3: Assessing Vision

4.3.1 Assessing Distance Visual Acuity
Procedure: Snellen Chart
Variation: Big E Chart
Variation: Picture Chart
4.3.2 Assessing Color Vision: Ishihara Test
4.3.3 Assessing Near Vision: Jaeger Test

Section 4: Eye and Ear Instillation and Irrigation

4.4.1 Eye Instillation
Variation: Eye Ointment
4.4.2 Eye Irrigation
4.4.3 Ear Instillation
4.4.4 Ear Irrigation

Section 5: Assisting with Examination of Female Reproductive System

4.5.1 Assisting with the Gynecologic Exam
Procedure: Liquid Prep Method
Variation: Slide Method
4.5.2 Teaching Self-Exam of Breast

Module Five: Phlebotomy and Hematologic: Blood Chemistry & Immunologic Testing (11 Units / 16 videos)

Section 1: Working with Patients/Documentation (Repeated -- Same as Module Two, Section 1)

Section 2: Phlebotomy

5.2.1 Performing a Venipuncture with a Vacuum Tube
Procedure: Venipuncture Needle
Variation: Possible Problems with Venipuncture
Variation: Winged Infusion
5.2.2 Performing a Venipuncture with Winged Infusion Set and Syringe
5.2.3 Preparing a Serum Specimen Using a Serum Separator Tube

Section 3: Capillary Puncture

5.3.1 Finger Stick
Procdedure: Semi-Automatic Disposable Lancet Device
Variation: Semi-Automatic Holder and Lancet
5.3.2 Heel Stick for Newborn PKU Screening

Section 4: Hematologic Testing

5.4.1 Performing a Microhematocrit
5.4.2 Performing Hemoglobin Testing
5.4.3 Preparation of Blood Smear

Section 5: Blood Chemistry and Immunologic Testing

5.5.1 Blood glucose Measurement and Quality Control
5.5.2 Mononucleosis Test

Module Six: Collecting and Testing Urine and Microbiological Specimens (12 Units / 16 videos)

Section 1: Collecting and Transporting Urine Specimens

6.1.1 Instructing Patients to Collect Urine Specimens
Procedure: Clean Catch Midstream Urine Specimens
Variation: Random Urine Specimen
Variation: First Morning Specimen
6.1.2 Instruct a Patient to Collect 24-Hour Urine Specimen
6.1.3 Using a Pediatric Urine Collection Device
6.1.4 Preparing Urine Specimen for the lab

Section 2: Urinalysis

6.2.1 Assessing Urine for Color and Turbidity
6.2.2 Dipstick Urinalysis
Variation: Automated Clinitek Instrument
6.2.3 Preparation for Microscopic Examination of Urine
Variation: Kova Method

Section 3: Other Urine Tests

6.3.1 Urine Pregnancy Test

Section 4: Collecting Microbiology Specimens

6.4.1 Collecting a Specimen for Throat Culture
6.4.2 Collecting a Wound Specimen
6.4.3 Collecting a Sputum Specimen

Section 5: Performing a Rapid Strep Test

6.5.1 Performing a Rapid Strep Test

Module Seven: Administering Medications (9 Units / 13 videos)

Section 1: Working with Patients (Repeated -- Same as Module Two, Section 1)

Section 2: Oral and Topical Medications

7.2.1 Administering Oral or Topical Medication:
Procedure: Tablets or Capsules
Variation: Oral Liquid Medications
Variation: Topical Ointment

Section 3: Parenteral Medications

7.3.1 Preparing an Injection from a Vial

SAUNDERS