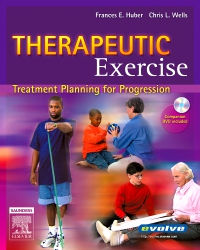 Publication Date:
03-30-2006
Therapeutic Exercise - Elsevier eBook on VitalSource, 1st Edition
Elsevier eBook on VitalSource
Publication Date:
03-30-2006
Or $0.00 with a valid access code
In response to the increasing need for progressing a treatment plan, this text shows the reader how to prescribe therapeutic exercise based on the best evidence and clinical experience. It teaches therapists how to make informed clinical decisions about the best way to progress treatment for their clients that integrates balance, strength, endurance and all of the areas necessary for optimal function. It also provides the underlying theories of treatment planning, using APTA's Guide to Physical Therapist Practice, 2nd Edition as the basis for practice. Three on-going client cases are woven throughout the text, promoting clinical reasoning skills and providing a framework to construct new knowledge.
Learning objectives at the start of each chapter help readers focus their attention on important principles and concepts.
"Stop and Think" questions mixed throughout the chapters show students how to reflect on new information and how it may be applied in a variety of situations.
Client vignettes in each chapter illustrate the importance of learning the concepts for transfer to new situations.
Concept maps illustrate how the chapter is organized and how elements fit together to provide a framework for constructing knowledge.
A focus on the disablement model allows students to apply therapeutic exercise for maximum functionality as defined by the APTA.
A focus on research demonstrates the best way to prescribe exercise by focusing on best practice.
A companion DVD provides 60 minutes of video clips that gives students the ability to observe an activity, critique the technique, compare and contrast movement in a wide range of ages, select the appropriate exercise for the job and many other applications.

1. Introduction
2. Addressing Functional Limitations and Disability with Therapeutic Exercise
3. Range of Motion and Stretching
4. Strength
5. Balance
6. Coordination and Proprioception
7. Endurance

Appendix A: Constructing Concept Maps
Appendix B: Answers to Stop and Think Questions
Appendix C: Answers to Study Questions

Glossary
Index

Frances E. Huber, EdD, PT, OCS, Assistant Professor, Director of Post Professional Programs, University of maryland School of Medicine, Department of Physical Therapy and Rehabilitation Science, Baltimore, MD and Chris L. Wells, PhD, PT, CCS, ATC, Adjunct Assistant Professor, University of Maryland School of Medicine, Department of Physical Therapy and Rehabilitation Science, Baltimore, MD