Netter's Correlative Imaging: Musculoskeletal Anatomy
,
Hardcover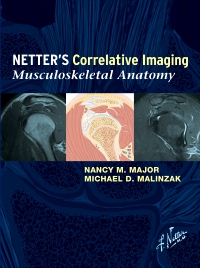 Free Shipping!
In Stock
This item has low stock levels and may be back-ordered. We'll let you know if it is back-ordered, and you will not be charged until the item ships.
Musculoskeletal Anatomy is the first title in the brand new Netter's Correlative Imaging series. Series editor and specialist in musculoskeletal imaging Dr. Nancy Major and coauthor, Michael Malinzak, presents Netter's beautiful and instructive paintings and illustrated cross sections created in the Netter style side-by-side with high-quality patient MR images created with commonly used pulse sequences to help you visualize the anatomy section by section. With in-depth coverage and concise descriptive text for at-a-glance information and access to correlated images online, this atlas is a comprehensive reference that's ideal for today's busy imaging specialists.
View upper and lower limbs in sagittal, coronal, and axial view MRs of commonly used pulse sequences, each slice complemented by a detailed illustration in the instructional and aesthetic Netter style.
Find anatomical landmarks quickly and easily through comprehensive labeling and concise text highlighting key points related to the illustration and image pairings.
Correlate patient data to idealized normal anatomy in the approximately 30 cross-sections per joint that illustrate the complexities of musculoskeletal anatomy.
Scroll through the correlated images online at www.NetterReference.com.

Part I Upper Limb

Overview of Upper Limb
Shoulder

Axial

Coronal

Sagittal

Upper Arm

Axial

Elbow

Axial

Coronal

Sagittal

Forearm

Axial

Wrist

Axial

Coronal

Sagittal

Hand and Finger

Axial- Hand

Axial- Finger

Coronal

Sagittal

Thumb

Axial

Coronal

Sagittal

Part II Lower Limb

Overview of Lower Limb
Hip

Axial

Axial Oblique

Coronal

Coronal Oblique

Sagittal

Thigh

Axial

Knee

Axial

Coronal

Sagittal

Lower Leg

Axial

Ankle and Foot

Axial (Long axis)

Coronal (Short axis)

Sagittal

Plantar Plate

Sagittal

Nancy M. Major, MD, Professor of Radiology and Orthopedics, University of Colorado School of Medicine, Director of Imaging, Sports and Performance Center, Boulder, Colorado and Michael D. Malinzak, MD, PhD