HIPAA Online (User Guide and Access Code)
,
Online Course - Access Card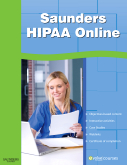 Develop a basic proficiency in HIPAA protocols and gain the working knowledge needed in the healthcare setting with this concise online course! Interactive learning modules explain core principles for HIPAA compliance in simple, straightforward terms, accompanied by an array of learning activities and quizzes that reinforce understanding and certify your knowledge. Upon completion of the course you can print a certificate of completion for potential employers!
Short, flexible format makes the course easily adaptable to your schedule and enables you to complete lessons independently.
Printable certificate of completion demonstrates your basic HIPAA proficiency to prospective healthcare employers.
Learning activities – including multiple choice, short answer, matching, crossword, true or false, and case studies – make difficult material more engaging and accessible.
What Have You Learned? quizzes at the end of each lesson assess your understanding and help you identify areas requiring further review.
Hyperlinked terms connect you directly to definitions for fast, easy reference.

Module 1: Introduction to HIPAA

Brief History of HIPAA
Patient Rights
Compliance Requirements
Documentation
Penalties for Violations

Module 2: Practicalities of HIPAA

Risk Reduction
Best Practices
Common Situations Students May Encounter

Module 3: Application of HIPAA