Netter's Surgical Anatomy and Approaches
,
Hardcover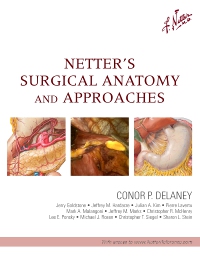 Free Shipping!
In Stock
This item has low stock levels and may be back-ordered. We'll let you know if it is back-ordered, and you will not be charged until the item ships.
Netter's Surgical Anatomy and Approaches is your quick reference to the key anatomical landmarks and operative techniques needed to best perform general surgical operative procedures! This one-of-a-kind resource combines the unmatched surgical anatomy illustrations of Frank H. Netter, MD with endoscopic, laparoscopic, and radiologic images - integrated with expert descriptions of each operative procedure - to provide a clear overview of the exposures, incision sites, surgically relevant landmarks, structures, fascial planes, and common anatomical variants and operative methods that are critical to your success in the operating room.
Vividly visualize the surgical anatomy you need to know through the uniquely detailed, memorable artwork of Dr. Netter, Carlos Machado, MD, and other anatomy illustrators working in the Netter tradition.
View surgical anatomy from a clinical perspective through photographs and endoscopic, laparoscopic, and radiologic images that capture important landmarks and anatomy and are integrated into an expert description of each operative procedure.
Access the complete contents online for quick look-ups, including videos of relevant surgical dissections to help you review approaches to common operations.

Contents

Section 1 THE NECK

Selective (Supraomohyoid) Neck Dissection, Levels I-III
Tracheostomy and Cricothyroidotomy

Section 2 ENDOCRINE

Thyroidectomy and Parathyroidectomy
Laparoscopic Adrenalectomy

Section 3 UPPER GASTROINTESTINAL

Esophagectomy
Nissen Fundoplication
Truncal Vagotomy and Highly Selective Vagotomy
Gastrectomy
Heineke-Mikulicz Pyloroplasty and Duodenotomy for Bleeding Ulcer
Pyloric Stenosis
Laparoscopic Roux en Y Gastric Bypass

Section 4 HEPATOBILIARY

Laparoscopic and Open Cholecystectomy
Laparoscopic and Open Common Bile Duct Surgery and Choledochoduodenostomy
Hepatectomy
Distal Pancreatectomy
Pancreaticoduodenectomy
Splenectomy
Organ Transplantation

Section 5 LOWER GASTROINTESTINAL

Laparoscopic and Open Appendectomy

Abdominal Wall Anatomy and Ostomy Sites
Right Hemicolectomy
Left Hemicolectomy
Transverse Colectomy
Low Anterior Resection with Total Mesorectal Excision and Anastomosis
Abdominoperineal Resection
Hemorrhoids and Hemorrhoidectomy
Sites of Perirectal Abscess and Fistula in Ano

Section 6 HERNIA

Open Inguinal Hernia Repair
Laparoscopic Inguinal Hernia Repair
Femoral Hernia Repair
Open Ventral Hernia Repair

Section 7 VASCULAR

Exposure of the Carotid Bifurcation
Aortic Exposure from the Midline Abdomen
Exposure of the Superior Mesenteric Artery and Celiac Axis
Upper Extremity Arteriovenous Access for Hemodialysis
Femoral Exposure
Exposure of the Common Femoral Artery and Vein
Exposure of the Popiliteal Artery and Vein
Above-Knee and Below-Knee Amputation

Section 8 VASCULAR ACCESS AND EMERGENCY PROCEDURES

Central Line Anatomy
Arterial Line Anatomy
Fasciotomy – Leg and Forearm
Chest Tube Insertion
Emergency Thoracotomy for Trauma
Tracheal Intubation and Endoscopic Anatomy

Section 9 BREAST and oncology

Mastectomy
Duct Excision
Sentinel Lymph Node Biopsy
Axillary and Inguinal Lymphadenectomy
Retroperitoneal Sarcoma

Section 10 UROLOGY AND Gynecology

Hysterectomy for benign and malignant conditions
Oophrectomy for benign and malignant conditions
Laparoscopic Transperitoneal Radical Nephrectomy
Radical Prostatectomy
Radical Cystectomy

Conor P Delaney, MCh, PhD, FRSCI ( Gen), FACS, Chairman, Digestive Disease and Surgery Institute, Cleveland Clinic, Cleveland, Ohio