Small Animal Practice Client Handouts
,
Paperback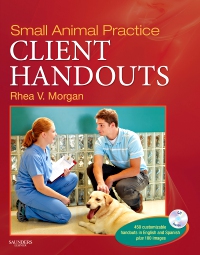 Free Shipping!
In Stock
This item has low stock levels and may be back-ordered. We'll let you know if it is back-ordered, and you will not be charged until the item ships.
Morgan's Small Animal Practice Client Handouts combines a book and CD-ROM to include 450 educational handouts that cover everything your clients need to know about their pet's condition. Content ranges from basic descriptions of illnesses and frequent signs to preventive measures and expected outcomes, all on a single page. Give your clients an educational resource to help them understand what their pet's illness is, how it will affect the animal's regular routine (as well as their own), and when they need to contact the veterinary office for consultation.
CD can be uploaded to more than one computer allowing for simultaneous use in the exam room and/or front desk.
Single page handouts are presented in a practical, easy-to-understand format that does not overwhelm the client.
Perforated pages facilitate easy storage, retrieval, and quick access for copying.
Organized alphabetically and by body system enabling you to quickly locate the information you need.
Customizable handouts on the CD let you adapt the look and content of all documents to reflect the practice's identity and address specific concerns of each client.
Spanish versions on the CD help you communicate with Spanish-speaking clients.
Advanced search function on the CD lets you search for information by topic, species, word, or phrase.
100 printable images on the CD facilitate discussion with clients about their pet's condition and save you time in explanation.

Section 1: Procedures and Techniques

Section Editor: Rhea V. Morgan, DVM, DACVIM, DACVO

Amputation, Limb

Arthrodesis

Blood Pressure Measurement, Indirect

Bone Marrow Aspiration and Evaluation

Bronchoscopy

Castration of the Male Cat

Castration of the Male Dog

Chemotherapy and Your Pet

Dialysis

Echocardiography

Electrocardiography — Intermittent and Continuous

Femoral Head and Neck Ostectomy

Fluid Therapy

Fracture Repair: Casts and Splints

Fracture Repair: External Skeletal Fixation

Fracture Repair: Internal Fixation

Laboratory Tests of Kidney Function

Nutritional Management of Chronic Kidney Disease

Oxygen Therapy

Physical Rehabilitation

Preoperative Evaluation

Sterilization of the Female Dog

Sterilization of the Female Cat

Subcutaneous Fluid Administration

Total Hip Arthroplasty

Transfusion Therapy in Dogs

Transfusion Therapy in Cats

Treatment of Resistant Seizures

Treatment of Seizures

Triple Pelvic Osteotomy for Hip Dysplasia

Section 2: Cardiovascular System

Section Editor: Rebecca Gompf, DVM, MS, ACVIM (Cardiology)

Aortic Stenosis

Arterial Thromboembolism, Peripheral

Atrial Premature Contractions and Tachycardia

Atrial Fibrillation

Atrioventricular Valve Degeneration in Dogs

Cardiac Tumors

Cardiomyopathy, Boxer

Cardiopulmonary Resuscitation

Congestive Heart Failure in Dogs, Left –Sided

Dilated Cardiomyopathy in Cats

Dilated Cardiomyopathy in Dogs

Endocarditis

Heartworm Disease in Cats

Heartworm Disease in Dogs

Hypertrophic Cardiomyopathy in Cats

Occult Cardiomyopathy in Doberman Pinschers

Patent Ductus Arteriosus

Pericardial Effusion

Peritoneopericardial Diaphragmatic Hernia

Persistent right aortic arch

Pulmonary Hypertension

Pulmonic Stenosis

Right –Sided Congestive Heart Failure in Dogs

Second and Third Degree Heart Block

Sick Sinus Syndrome and Atrial Standstill

Sinus Arrhythmia

Sinus Bradycardia

Systemic Hypertension

Tetralogy of Fallot

Tricuspid and Mitral Valve Dysplasia

Ventricular and Atrial Septal Defects

Ventricular Fibrillation and Cardiac Arrest

Ventricular Premature Contractions and Tachycardia

Section 3: Respiratory System

Section Editor: Ronald M. Bright, DVM, MSD, ACVS

Acute Respiratory Distress Syndrome

Allergic Bronchitis in Cats

Allergic Bronchitis in Dogs

Brachycephalic Syndrome

Bronchitis, Acute

Bronchitis, Chronic

Bullous Lung Disease

Diaphragmatic Hernia

Flail Chest

Laryngeal Collapse in Dogs

Laryngeal Paralysis

Laryngitis and Tracheitis

Laryngeal and Tracheal Neoplasia

Lung Lobe Torsion

Lung Tumors

Mediastinal Masses

Nasal and Nasopharyngeal Polyps in Cats

Nasal Tumors, Malignant

Pleural Effusion

Pneumonia, Aspiration

Pneumonia, Bacterial

Pneumonia, Fungal

Pneumothorax

Pulmonary Contusions

Pulmonary Edema

Rhinoscopy

Rhinitis/Sinusitis in Cats

Rhinitis/Sinusitis in Dogs

Tracheal Collapse in Dogs

Tracheal Obstruction

Tracheal Trauma

Section 4: Neurologic System

Section Editors: Courtenay F. Ratterree, DVM; Marc Kent, DVM, DACVIM (Internal Medicine/Neurology); Scott J Schatzberg, DVM, DACVIM (Neurology), PhD

Atlantoaxial Subluxation in the Dog

Botulism

Brachial Plexus Avulsion

Brain Tumors

Canine Distemper Neurologic Disease

Caudal Occipital (Chiari-like) Malformation and Syringohydromyelia

Degenerative Myelopathy

Discospondylitis

Fibrocartilaginous Embolic Myelopathy

Granulomatous Meningoencephalitis and Necrotizing Encephalitis

Head Trauma

Hydrocephalus

Idiopathic Epilepsy

Idiopathic Facial Nerve Paralysis

Idiopathic Peripheral Vestibular Disease

Idiopathic Trigeminal Neuropathy

Intervertebral Disc Disease

Ischemic Brain Injury (Stroke)

Lumbosacral Disease, Degenerative

Myasthenia gravis

Peripheral Nerve Sheath Tumors

Polyradiculoneuritis in Dogs, Acute

Seizures: Causes and Diagnosis

Spinal Cord Trauma

Spinal Tumors

Spondylosis Deformans

Steroid Responsive Meningeal Arteritis

Tick Paralysis

Tremor Syndrome

Caudal Cervical Spondylopathy (Wobbler Syndrome)

Section 5: Digestive System

Section Editor: Craig G. Ruaux, BVSc, PhD, DACVIM

Anal Sac Diseases

Cholangiohepatitis in Cats

Colitis, Acute

Colitis, Chronic

Cleft Palate

Copper Storage Hepatopathy in Dogs

Epulis in Dogs

Esophageal Foreign Body

Esophagitis & Esophageal Stricture

Exocrine Pancreatic Insufficiency

Fecal Incontinence

Gall Bladder Disease in Dogs

Gastric Foreign Body

Gastric Neoplasia

Gastritis, Acute

Gastritis, Chronic

Gastrointestinal Ulceration

Gingivitis

Hepatic Lipidosis in Cats

Hepatic Encephalopathy

Hepatitis in Dogs, Chronic

Hemorrhagic Gastroenteritis in Dogs

Inflammatory Bowel Disease in Cats

Inflammatory Bowel Disease in Dogs

Intestinal Neoplasia

Intestinal Obstruction

Intestinal Parasites

Lymphoplasmacytic Stomatitis in Cats

Megacolon in Cats

Megaesophagus

Oral Melanoma in Dogs

Oral Squamous Cell Carcinoma in Cats

Pancreatitis in Dogs

Pancreatitis in Cats

Perianal Fistula in Dogs

Perianal Tumors

Perineal Hernia in Dogs

Portosystemic Vascular Anomalies

Protein-losing Enteropathy

Salivary Mucocele in Dogs

Section 6: Endocrine System

Section Editor: Rhea V. Morgan, DVM, DACVIM, DACVO

Diabetes Insipidus

Diabetes Mellitus in Cats

Diabetes Mellitus in Dogs

Hyperadrenocorticism (Cushing's Disease) in Dogs

Rhea V. Morgan, DVM, Diplomate, American College of Veterinary Internal Medicine, Diplomate, American College of Veterinary Ophthalmologists; Director, Smokey Mountain Veterinary Services, Walland, TN; Ophthalmology Services at Village Veterinary Medical Center, Farragut, TN