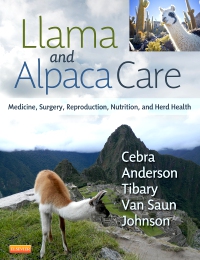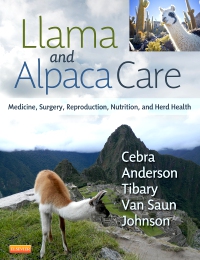 This item has low stock levels and may be back-ordered. We'll let you know if it is back-ordered, and you will not be charged until the item ships.
Written by world-renowned camelid specialists and experts in the field, Llama and Alpaca Care is a uniquely global text that serves as a complete resource for current information on all aspects of medicine, surgery, reproduction, nutrition, and herd health of llamas and alpacas. Over 500 full-color images and 100 tables and boxes provide the answers your students need, guiding them through common procedures and techniques such as handling and restraint, administration of drugs, and grooming. The logical organization of content facilitates quick access to important information. With coverage ranging from basic maintenance such as restraint and handling to more complex topics including anesthesia and surgery, this text describes the full range of techniques required for the management of llamas and alpacas.
Over 500 full-color images provide detailed, highly illustrated coverage of all major body systems, physical examination, nutrition, anesthesia, fluid therapy, multisystem diseases, and surgical disorders.
World-renowned camelid experts and specialists in the field each bring a specific area of expertise for a uniquely global text.
Comprehensive herd health content includes handling techniques, vaccinations, biosecurity, and protecting the herd from predators.
Coverage of anesthesia and analgesia includes the latest information on pharmacokinetics of anesthetic drugs, chemical restraint, injectable and inhalation anesthesia, neuroanesthesia, and pain management.
Reproduction section contains information on breeding management, lactation, infertility, and embryo transfer.
Nutrition information offers detailed nutritional requirements and discusses feeding management systems and feeding behavior.

PART ONE: HERD HEALTH
1. Biosecurity
2. Protection of Camelids from Predators
3. Camelid Vaccinations
4. Camelid Herd Health and Nutrition
5. Endoparasite Control
6. Anthelmintic Resistance in Camelid Parasites
7. Camelid Management, Handling Techniques and Facilities, and Herd Management
PART TWO: NUTRITION
8. Applied Digestive Anatomy and Feeding Behavior
9. Nutritional Requirements
10. Feeds for Camelids
11. Feeding Management Systems
12. Nutritional Assessment
13. Nutritional Diseases
PART THREE: REPRODUCTION
14. Anatomy and Physiology of Reproduction in the Female Llama and Alpaca
15. Reproductive Anatomy and Physiology in the Male
16. Breeding Management
17. Clinical Examination of the Female Reproductive Function
18. Breeding Soundness Examination of the Llama and Alpaca
19. Infertility and Subfertility in the Male
20. Infertility and Subfertility in the Female
21. Cytogenetics and Infertility
22. Pregnancy Diagnosis and High-Risk Pregnancy Evaluation
23. Disorders and Diseases of Pregnancy
24. Parturition and Obstetrics
25. Lactation and Neonatal Care
26. Postpartum Disorders
27. Artificial Insemination of Llamas and Alpacas
28. Embryo Transfer
29. Embryo Preservation and In Vitro Production of Embryos
PART FOUR: PRINCIPLES OF HEALTH CARE
30. Physical Examination and Conformation
31. Clinical Pathology
32. Fluid Therapy
33. Nutritional Support
34. Drug Therapy in Llamas and Alpacas
PART FIVE: MEDICAL DISORDERS
35. Disorders of the Skin
36. Diseases of the Cardiovascular and Hemolymphatic Systems
37. Diseases of the Respiratory Tract
38. Disorders of the Neurologic System and Special Senses
39. Disorders of the Urinary System
40. Disorders of the Digestive System
41. Disorders of Carbohydrate or Lipid Metabolism
42. Neonatology and Neonatal Disorders
PART SIX: ANESTHESIA AND ANALGESIA
43. Practical Pharmacokinetics of Anesthetic Drugs
44. Pre-Procedure Considerations
45. Chemical Restraint of Camelids
46. Injectable Anesthesia of Camelids
47. Inhalational Anesthesia
48. Local and Regional Analgesic Techniques in Camelids
49. Peri-Operative Management of Compromised Camelid Patients
50. Obstetrical Anaesthesia in South American Camelids
51. Neuroanaesthesia for South American Camelids
52. Pain Management in Camelids: Systemic Techniques
53. Constant Rate Infusion (CRI) Technique for Management of Severe Pain in Camelids
54. Acupuncture in the Camelid
PART SEVEN: SURGICAL DISORDERS
55. Principles of Surgery
56. Ocular Surgery
57. Gastrointestinal Surgery in Alpacas and Llamas
58. Musculoskeletal Surgery
59. Thoracic imaging and Respiratory Surgery
60. Urogenital Surgery in Camelids
61. Surgical Management of Neurologic Disorders
62. Reproductive Surgery
63. Integumentary and Dental Surgery
64. Minimally Invasive Surgery

Chris Cebra, VMD, MS, DACVIM, Professor of Large Animal Internal Medicine;College of Veterinary Medicine; Oregon State University; Corvallis, Oregon, David E. Anderson, DVM, MS,DACVS, Professor and Head, Large Animal Clinical Sciences; College of Veterinary Medicine; Veterinary Teaching Hospital; University of Tennessee; Knoxville, Tennessee, Ahmed Tibary, DVM, PhD, DACT, College of Veterinary Medicine; Washington State University; Pullman, Washington, Robert J. Van Saun, DVM, MS, PhD, DACT, DACVN, Pennsylvania State University, Department of Veterinary & Biomedical Sciences and LaRue Willard Johnson, DVM, PhD, Colorado State University (Emeritus)
This item has low stock levels and may be back-ordered. We'll let you know if it is back-ordered, and you will not be charged until the item ships.