Online Internship for Medical Coding, 2011 Edition
,
Online Course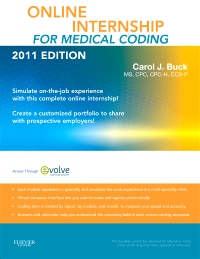 Or $0.00 with a valid access code
Developed by leading coding author and educator Carol J. Buck, Online Internship for Medical Coding 2011 Edition simulates the experience of working in an actual medical center to help you hit the ground running in your first coding job. Practice applying the concepts you've learned in Buck's Step-by-Step Medical Coding and The Next Step, Advanced Medical Coding, and prove your proficiency coding in 18 specialties with an online portfolio you can print out to show potential employers.
Duration for access to this product is for the life of the edition.
A complete online internship simulates actual on-the-job experience.
18 engaging modules simulate the work experience in a multi-specialty medical practice with 60 physicians on staff.
More than 500 total reports, including 30 reports in each module, progress gradually from easy to more difficult cases.
A non-graded trial exam and a graded final exam are included at the end of each module to help you assess your understanding.
Coding time is tracked by report to measure your speed and accuracy.
A printable portfolio of results enables you to share your final grade, module-by-module score, and list of reports with potential employers to demonstrate your proficiency.
Answers and rationales help you understand the reasoning behind a proper coding sequence.
A virtual desk lets you submit codes and reports electronically, just as you would in an actual clinic.
Program locking allows you to stop the timer or take a break, since time and security are critical when on the job.

Module 1: Evaluation and Management

Module 2. Anesthesiology

Module 3: Cardiology

Module 4: Integumentary

Module 5: Emergency Medicine

Module 6: Medicine

Module 7: Gastroenterology

Module 8: Nephrology

Module 9: Neurology and Ophthalmology

Module 10: OB/GYN

Module 11: Orthopedics

Module 12: Otorhinolaryngology

Module 13: Pathology

Module 14: Pediatrics, Neonatology, and Adolescent Medicine

Module 15: Diagnostic Radiology

Module 16: Interventional Radiology and Radiation Oncology

Module 17: Urology

Module 18: General Surgery

Carol J. Buck, MS, CPC, CCS-P, Former Program Director, Medical Secretarial Programs, Northwest Technical College, East Grand Forks, MN