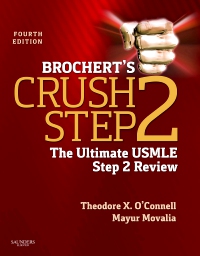 Publication Date:
02-21-2012
Brochert's Crush Step 2, 4th Edition
Paperback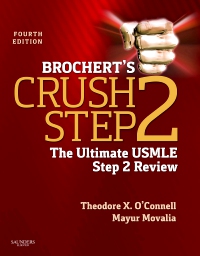 Publication Date:
02-21-2012
Free Shipping!
In Stock
This item has low stock levels and may be back-ordered. We'll let you know if it is back-ordered, and you will not be charged until the item ships.
Crush Step 2: The Ultimate USMLE Step 2 Review—the name and reputation speak for themselves! Drs. Theodore X. O'Connell and Mayur Movalia bring a fresh perspective to this trusted classic that offers you the most high-yield coverage of all of the specialty and subspecialty knowledge tested on the most recent administrations of the USMLE Step 2 exam. A well-written, easily accessible approach, with plenty of helpful lists and tables, makes studying stress-free. You'll also find numerous tips, insights, and guidance on maximizing your score and on getting the most benefit from computer-based simulations. If you know all of the concepts in this book, you should do much better than pass USMLE Step 2: You should CRUSH STEP 2!
Confidently prepare for the boards with the text that is trusted and recommended by thousands of medical students.
Focus on essential information and master it efficiently with thoroughly updated, high-yield coverage of all of the specialty and subspecialty knowledge tested on the most recent USMLE Step 2 exam, so you can be sure you're studying the material you really need to know.
Spend more time studying and less time searching thanks to a well-written, easily accessible approach, with plenty of helpful lists and tables to highlight high-yield data.
Review the full gamut of essential subjects with coverage of epidemiology and biostatistics, pharmacology and microbiology, cardiac physiology, and basic EKG pathology, as well as common and life-threatening diseases encountered in orthopedics, urology, ophthalmology, neurosurgery, pediatrics, vascular surgery, and other subspecialties.

Get the fresh perspective and insight of new authors, Drs. O'Connell and Movalia, both successful authors of review products.
Learn from the experience of the Resident Review Board, comprised of high-scoring individuals, who reviewed the book to ensure relevancy and accuracy.
Confidently prepare for the boards with the text that is trusted and recommended by thousands of medical students and has been reviewed by a board of high-performing (99th percentile) students.
Enhance your learning and understanding with thoroughly updated images throughout including a chapter dedicated to full-color, high-yield images (with additional images accessible on your smart phone via QR codes).
Challenge your knowledge with USMLE style questions at the end of most chapters, additional online review questions, and bonus images and questions accessible on your smart phone via QR codes.
Free limited-time access to the Crush Step 2 Question Bank on USMLE Consult plus discount for purchase.

Introduction

Using the QR Codes

1. Cardiovascular Medicine

2. Dermatology

3. Ear, Nose, and Throat

4. Emergency Medicine

5. Endocrinology

6. Ethics and Patient Encounters

7. Gastroenterology

8. General Surgery

9. Genetics

10. Geriatrics

11. Gynecology

12. Hematology

13. Immunology

14. Infectious Disease

15. Internal Medicine

16. Laboratory Medicine

17. Nephrology

18. Neurology

19. Neurosurgery

20. Obstetrics

21. Oncology

22. Ophthalmology

23. Orthopedic Surgery

24. Pediatrics

25. Pharmacology

26. Preventive Medicine, Epidemiology, and Biostatistics

27. Psychiatry

28. Pulmonology

29. Radiology

30. Rheumatology

31. Urology

32. Vascular Surgery

33. Photos, Images, and Multimedia

34. Signs, Symptoms, and Syndromes

Appendix: Abbreviations

Index

Theodore X. O'Connell, MD, Founding Director, Family Medicine, Kaiser Permanente Napa-Solano, Napa; Assistant Clinical Professor, Department of Community and Family Medicine, University of California, San Francisco, School of Medicine, San Francisco, California and Mayur Movalia, MD, Hematopathologist, Dahl-Chase Pathology Associates; Medical Director, Flow Cytometry Laboratory, Dahl-Chase Diagnostic Services; Medical Director, Affiliated Laboratories, Eastern Maine Medical Center, Bangor, Maine; Medical Director, Cancer Care of Maine Laboratory, Brewer, Maine; Medical Director, Mount Desert Island Hospital Laboratory, Bar Harbor, Maine; Faculty, University of Maine, Orono, Maine