Saunders Comprehensive Review for the NCLEX-PN® Examination
,5th Edition
Paperback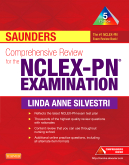 Free Shipping!
This item has low stock levels and may be back-ordered. We'll let you know if it is back-ordered, and you will not be charged until the item ships.
This title includes additional digital media when purchased in print format. For this digital book edition, media content is not included.
Get everything you need to review for the NCLEX-PN exam from one trusted source! This unique, bestselling review and preparation guide offers the perfect combination of core content review, practice questions, comprehensive rationales, and detailed test-taking strategies from the NCLEX expert herself: Linda Silvestri. Updated to reflect the latest NCLEX-PN test plan, this new edition features over 4,200 high-quality review questions in the book and on the companion Evolve website to help you hone your understanding of all the important NCLEX-PN content areas.
More than 4,200 practice questions in the text and companion Evolve site provide ample testing practice in both print and electronic format – 500 more than the last edition!
15 pharmacology chapters address the emphasis on pharmacology questions on the NCLEX-PN exam.
Hundreds of alternate item formats — including multiple response, ordered response, fill-in-the-blank, figure, chart/exhibit, audio, graphic option, and video questions — prepare you for this additional component of the new NCLEX-PN test plan.
Pyramid points identify content that typically appears on the NCLEX-PN test plan.
Pyramid to Success sections provide an overview of the chapter, guidance on what content to focus on, and its relative importance to the most recent NCLEX-PN test plan.
Comprehensive exam consisting of 85 questions related to all content areas in the book and representative of the percentages identified in the NCLEX-PN test plan.

Updated content and questions reflect the latest NCLEX-PN test plan.
New full-color design makes for a more visually engaging learning experience.
Priority Nursing Actions boxes outline and explain clinical emergent situations requiring immediate action, including detailed rationales and textbook references to help strengthen your prioritizing skills in clinical and testing situations.
Pyramid Alert boxes reinforce learning of essential content frequently tested on the NCLEX-PN exam.
New video and graphic option questions familiarize you with all the alternate item format question types.
New chapter on Physical Assessment of the Adult Client highlights the key components of physical examination and health history often encountered on the NCLEX-PN® exam.

Unit I – NCLEX-PN Exam Preparation

1. The NCLEX-PN Examination

2. Preparing for the NCLEX Exam: Transitional Issues for the Foreign-Educated Nurse

3. Pathways to Success

4. The NCLEX-PN Examination: From a Student's Perspective

5. Test-Taking Strategies

Unit II – Issues in Nursing

6. Cultural Diversity

7. Ethical and Legal Issues

8. Delegating, Managing, and Prioritizing Client Care

Unit III – Nursing Sciences

9. Fluids and Electrolytes

10. Acid-Base Balance

11. Laboratory Values

12. Nutritional Components of Care

13. Intravenous Therapy and Blood Administration

Unit IV – Fundamental Skills

14. Hygiene and Safety

15. Medication and Intravenous Administration

16. Basic Life Support

17. Perioperative Nursing Care

18. Positioning Clients

19. Care of a Client with a Tube

Unit V – Maternity Nursing

20. Female Reproductive System

21. Obstetrical Assessment

22. Prenatal Period and Risk Conditions

23. Labor and Delivery and Associated Complications

24. The Postpartum Period and Associated Complications

25. Care of the Newborn

26. Maternity and Newborn Medications

Unit VI – Growth and Development Across the Life Span

27. Theories of Growth and Development

28. Developmental Stages

29. Care of the Older Client

Unit VII – Pediatric Nursing

30. Neurological, Cognitive, and Psychosocial Disorders

31. Eye, Ear, Throat, and Respiratory Disorders

32. Cardiovascular Disorders

33. Metabolic, Endocrine, and Gastrointestinal Disorders

34. Renal and Urinary Disorders

35. Integumentary Disorders

36. Musculoskeletal Disorders

37. Hematological and Oncological Disorders

38. Communicable Diseases and Acquired Immunodefiency Syndrome

39. Pediatric Medication Administration

Unit VIII – The Adult Client with an Integumentary Disorder

40. Integumentary System

41. Integumentary Medications

Unit IX – The Adult Client with an Oncological Disorder

42. Oncological Disorders

43. Antineoplastic Medications

Unit X – The Adult Client with an Endocrine Disorder

44. Endocrine System

Linda Anne Silvestri, PhD, RN, Instructor of Nursing, Salve Regina University, Newport, RI; President, Nursing Reviews, Inc. and Professional Nursing Seminars, Inc., Charlestown, RI