Career Development for Health Professionals - Elsevier eBook on VitalSource, 3rd Edition
Elsevier eBook on VitalSource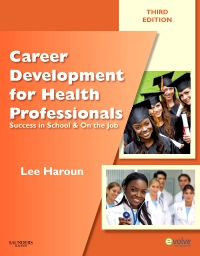 Or $0.00 with a valid access code
From life management to job search skills, discover the first steps toward navigating your health care career! Packed with tips and suggestions, this practical guide teaches the skills needed to achieve success in school and beyond with an encouraging, up-beat tone. This text is designed to help you attain four important goals as a health care student:
1) Complete your educational program
2) Think like a health care professional
3) Find the right job
4) Attain long-term career success.
Self-paced format allows you to work through the text independently

Small units with self assessment facilitates a self-paced approach and makes the content less intimidating
Illustrations, photos, and cartoons provide visual aid to catch and keep your attention

Key terms and objectives provides goals and a basis of knowledge before reading the chapter
Focus on resume building emphasizes how to build a successful resume from the first day of your education
On The Job boxes and Prescription for Success exercises reinforce how the skills presented relate to your career in health care
Expanded useful Spanish phrases offers a quick reference for translations that will prove valuable in the workplace

UNIQUE! Chapter focusing on non-traditional students adds further guidance to this growing population in health careers education
UNIQUE! Summaries of short interviews with employers and working professionals provide first hand information about how to prepare for the future
UNIQUE! Tips from recent graduates who are successfully employed help you apply successful skills for both school and your career

1. Your Career Starts Now

2. Your Resume Starts Now

3. Developing Your Personal Skills

4. Strategies for Students with Special Situations

5. Developing Your Paper Skills I: Intake of Information

6. Developing Your Paper Skills II: Output of Information

7. Developing Your Practical Skills

8. Developing Your People Skills

9. Beginning the Job Search

10. Finalizing Your Employment Presentation Materials

11. The Interview

12. After the Interview

13. Success on the Job

14. Navigating Your Career

Appendix A. Professional Organizations for Health Care Occupations

Appendix B. Useful Spanish Phrases

Lee Haroun, MA, MBA, Former director of Maric College and Regional director of Education for Quest Education Corporation