ICD-9-CM Coding: Theory and Practice with ICD-10, 2013/2014 Edition
,
Paperback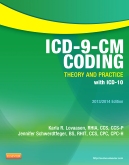 Free Shipping!
This item has low stock levels and may be back-ordered. We'll let you know if it is back-ordered, and you will not be charged until the item ships.
Learn to code effectively with ICD-9-CM medical coding and gain a thorough introduction to ICD-10-CM/PCS coding with one book! ICD-9-CM Coding, 2013/2014 Edition combines basic coding principles with proven, practical insight and the ICD-9-CM and ICD-10-CM/ICD-10-PCS Official Guidelines for Coding and Reporting to prepare you for the upcoming implementation of ICD-10-CM/PCS. Whether you're learning to code for the first time or making the transition from ICD-9-CM to ICD-10-CM/PCS, leading medical coding authors Karla Lovaasen and Jennifer Schwerdtfeger deliver the fundamental understanding you need to succeed in hospital and physician settings.
Both ICD-9-CM codes and ICD-10-CM/ICD-10-PCS codes are shown in all coding exercises and examples (including answer keys).
Emphasis on ICD-10-CM and ICD-10-PCS coding prepares you for the upcoming implementation of ICD-10.
MS-DRG documentation and reimbursement details guide you through this key component of the coding process.
Line coding exercises and activities challenge you to apply concepts to solve problems.
ICD-10 Official Guidelines for Coding and Reporting (OGCR) are included in each coding chapter, immediately following the ICD-9-CM coding guidelines.
Full-color A&P content, disease coverage, procedure guidelines, and drug data ensure that you're familiar with key topics affecting medical coding.
Medical record coverage introduces the records and documents you'll encounter on the job.
Updated Coding Clinic references direct you to the definitive coding resource from the American Hospital Association (AHA).
A companion Evolve website provides convenient online access to the OGCR, medical and surgical root operations definitions, a MS-DRG list, partial answer keys, and more.

The Rationale for and History of Coding
The Health Record as the Foundation for Coding
ICD-9-CM Format and Conventions
Basic Steps of Coding
General Coding Guidelines for Diagnosis
General Coding Guidelines for Procedures in ICD-9-CM
Introduction to ICD-10-PCS
Symptoms, Signs, and Ill-Defined Conditions, and V Codes (V codes and ICD-9-CM Chapter 16, Codes 780-799, and ICD-10-CM Chapters 18 and 21, Codes R00-99, Z00-Z99)
Infectious and Parasitic Diseases (ICD-9-CM Chapter 1, Codes 001-039, and ICD-10-CM Chapter 1, Codes A00-B99)
Neoplasms (ICD-9-CM Chapter 2, Codes 140-239, and ICD-10-CM Chapter 2, Codes C00-D49)
Diseases of the Blood and Blood-Forming Organs (ICD-9-CM Chapter 4, Codes 280-289, and ICD-10-CM Chapter 3, Codes D50-D89)
Endocrine, Nutritional, and Metabolic Diseases, and Immunity Disorders (ICD-9-CM Chapter 3, Codes 240-279, and ICD-10-CM Chapter 4, Codes E00-E89)
Mental, Behavioral, and Neurodevelopmental Disorders (ICD-9-CM Chapter 5, Codes 290-319, and ICD-10-CM Chapter 5, Codes F01-F99)
Diseases of the Nervous System and Sense Organs (ICD-9-CM Chapter 6, Codes 320-389, and ICD-10-CM Chapter 6, Codes G00-G99, Chapter 7, Codes H00-H59, and Chapter 8, Codes H60-H95)
Diseases of the Circulatory System (ICD-9-CM Chapter 7, Codes 390-459, and ICD-10-CM Chapter 9, Codes I00-I99)
Diseases of the Respiratory System (ICD-9-CM Chapter 8, Codes 460-519, and ICD-10-CM Chapter 10, Codes J00-J99)
Diseases of the Digestive System (ICD-9-CM Chapter 9, Codes 520-579, and ICD-10-CM Chapter 11, Codes K00-K95)
Diseases of the Skin and Subcutaneous Tissue (ICD-9-CM Chapter 12, Codes 680-709, and ICD-10-CM Chapter 12, Codes L00-L99)
Diseases of the Musculoskeletal System and Connective Tissue (ICD-9-CM Chapter 13, Codes 710-739, and ICD-10-CM Chapter 13, Codes M00-M99)
Diseases of the Genitourinary System (ICD-9-CM Chapter 10, Codes 580-629, and ICD-10-CM Chapter 14, Codes N00-N99)
Complications of Pregnancy, Childbirth, and the Puerperium (ICD-9-CM Chapter 11, Codes 630-677, and ICD-10-CM Chapter 15, Codes O00-O9A)
Congenital Anomalies and Perinatal Conditions (ICD-9-CM Chapter 14, Codes 740-759, and Chapter 15, Codes 760-779, and ICD-10-CM Chapter 16, Codes P00-P96, and Chapter 17, Codes Q00-Q99)
Injuries and E Codes (ICD-9-CM Chapter 17, Codes 800-995, and External Causes, E800-E999, and ICD-10-CM Chapters 19 and 20, Codes S00-Y99)
Burns, Adverse Effects, and Poisonings (ICD-9-CM Chapter 17, Codes 800-995, and ICD-10-CM Chapters 19 and 20, Codes S00-Y99)
Complications of Surgical and Medical Care
Outpatient Coding

Karla R. Lovaasen, RHIA, CCS, CCS-P, Coding and Consulting Services, Abingdon, MD and Jennifer Schwerdtfeger, BS, RHIT, CCS, CPC, CPC-H, Partner, Auditing & Coding Experts, LLC, Crofton, MD