2012 ICD-9-CM, for Physicians Volumes 1 and 2 Professional Edition (Softbound)
,
Paperback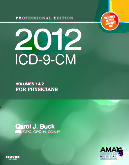 Free Shipping!
This item has low stock levels and may be back-ordered. We'll let you know if it is back-ordered, and you will not be charged until the item ships.
Elsevier and the American Medical Association have partnered to co-publish this ICD-9-CM reference by Carol J. Buck!
Code efficiently and effectively with Carol J. Buck's 2012 ICD-9-CM for Physicians, Volumes 1 & 2, Professional Edition. Combining Netter's Anatomy artwork and the 2011 Official Guidelines for Coding and Reporting (OCGR) with a format designed by coders for coders, this handy reference helps you easily access the information you need to stay up to date and ensure the most accurate billing and optimal reimbursement in physician-based coding. Plus, you can take this resource into your certification exams for enhanced testing support!
Exclusive focus on ICD-9-CM Volumes 1 and 2 provides clear, concise coverage of physician-based and outpatient coding essentials.
UNIQUE! Full-color Netter's Anatomy artwork clarifies complex anatomic information to help you appropriately code related procedures.
Use Additional Digit(s) symbol in the index identifies codes that require an additional digit to remind you to check the tabular.
Full-color design incorporates color-coded symbols to help you quickly find the information you need.
The 2011 Official Guidelines for Coding and Reporting (OGCR) are listed within the lists of codes and in a separate index for fast, easy access to the coding rules when you need them.
Items provide detailed information on common diseases and conditions, helping you code more effectively.
Symbols throughout the text alert you to new, revised, and deleted codes and clearly identify codes that require special consideration before assigning, including unspecified codes, includes and excludes, use additional, code first, and codes that cannot be assigned as first-listed diagnoses.
Additional hints, tips and definitions within specific codes provide extra guidance in coding anatomy, pathophysiology, or other coding directions.
Guide to the Updates enables you to reference all annual coding changes at a glance.
References to the American Hospital Association's Coding Clinics help you find expanded information about specific codes and their usage.
Age and Sex edits alert you to codes that are used only with patients of a specific age or sex, helping to ensure accurate reporting.
Omit and Code Also codes highlight government text needing special attention.
Coding updates on the companion codingupdates.com website keep you informed of changes to ICD codes.
Authorized support you can take into your certification exams to enhance your testing experience and help you ensure certification success.

Unit One: ICD-9-CM

Part I: Introduction

ICD-9-CM Background

Coordination and Maintenance Committee

Characteristics of the ICD-9-CM

The Disease Classification

ICD-9-CM Official Guidelines for Coding and Reporting

Part II: Alphabetic Index, Volume 2

Section 1 Index to Diseases

Section 2 Table of Drugs and Chemicals

Section 3 Index to External Causes of Injury

Part III: Diseases: Tabular List, Volume 1

1. Infectious and Parasitic Diseases

2. Neoplasms

3. Endocrine, Nutritional and Metabolic Diseases, and Immunity Disorders

4. Diseases of the Blood and Blood-forming Organs

5. Mental Disorders

6. Diseases of the Nervous System and Sense Organs

7. Diseases of the Circulatory System

8. Diseases of the Respiratory System

9. Diseases of the Digestive System

10. Diseases of the Genitourinary System

11. Complications of Pregnancy, Childbirth, and the Puerperium

12. Diseases of the Skin and Subcutaneous Tissue

13. Diseases of the Musculoskeletal System and Connective Tissue

14. Congenital Anomalies

15. Certain Conditions Originating in the Perinatal Period

16. Symptoms, Signs, and Ill-defined Conditions

17. Injury and Poisoning

V-Codes Supplementary Classification of Factors Influencing Health Status and Contact with Health Services

E-Codes Supplementary Classification of External Causes of Injury and Poisoning

Appendix A Morphology of Neoplasms

Appendix B Glossary of Mental Disorders

Appendix C Classification of Drugs by American Hospital Formulary Services List Number and Their ICD-9-CM Equivalents

Appendix D Classification of Industrial Accidents According to Agency 


Appendix E List of Three-Digit Categories

Carol J. Buck, MS, CPC, CPC-H, CCS-P, Former Program Director, Medical Secretarial Programs, Northwest Technical College, East Grand Forks, MN