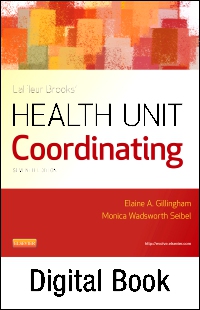 Publication Date:
01-09-2013
LaFleur Brooks' Health Unit Coordinating Elsevier eBook on VitalSource, 7th Edition
Elsevier eBook on VitalSource
Publication Date:
01-09-2013
Or $0.00 with a valid access code
Get the most comprehensive, in-depth coverage on health unit coordinating from the industry's most popular text! Expert authors Elaine Gillingham and Monica Wadsworth Seibel offer in-depth discussion of key theories and concepts surrounding the profession and guide you through the common responsibilities of a health unit coordinator in both traditional and electronic medical record environments. From greeting new patients and dealing with visitors to transcribing physicians' orders, maintaining statistical reports, and preparing patient charts, this text will prepare you for success across all areas of health unit coordination.
Certification Review Guide with mock certification exam is included on the Evolve site with every purchase of the book.
Step-by-step instructions on how to perform important procedures include in-depth explanations of key tasks and possible modifications that would meet special requirements.
High Priority boxes throughout the text offer useful information such as lists of addresses, organizations, laboratory studies, hospital specialties, health unit coordinator career ladders, helpful hints, and more, related to chapter discussions.
Example boxes in the Communication chapters present real-life scenarios that outline the responsibilities of the health unit coordinator in each situation and offer tips on how you can conduct yourself in a professional and helpful manner.
Bad handwriting examples give you experience deciphering hard-to-read handwriting that you will encounter in practice.Student-friendly features such as outlines, chapter objectives, vocabulary, and abbreviations are included at the beginning of each chapter to set the stage for the important information to be covered later in the chapter.
References within the text to the companion skills practice manual and online tools direct you to hands-on exercises that stress the practical applications of skills and procedures in a simulated health care environment.

NEW! Expanded coverage of the EMR/CPOE explains how the implementation of the electronic medical record/CPOE is changing the role of the Health Unit Coordinator.
UPDATED! Coverage of medications, diagnostic procedures, therapies, surgical procedures, and new health care trends keep you up to date on how to perform your role effectively in today's medical environment.
NEW! Hot topics in health unit coordinating keep you abreast of issues currently affecting the health unit coordinator such as, the electronic health record/CPOE, physician order entries, preceptorships, and interviewing/background checks, are addressed.
NEW! Additional student activities are included in each chapter to help reinforce material, expand your critical thinking and application skills, and prepare you for exams.
NEW! Flashcards on Evolve help you review important terminology and abbreviations that you will use on the job.

Section 1: Orientation to Hospitals, Medical Centers, and Health Care

1. Health Unit Coordinating
2. Overview of Health Care Today
3. The Nursing Department and Medical Staff
4. Communication Devices and Their Uses

Section 2: Personal and Professional Skills

5. Communication and Interpersonal Skills
6. Workplace Behavior
7. Management Techniques and Problem-Solving Skills for Health Unit Coordinating

Section 3: The Patient's Electronis Record or Paper Chart

8. The Patient's Electronic Medical Record or Chart
9. HUC Role in Processing of Electronic, Pre-Printed, and Handwritten Doctors' Orders
10. Patient Activity, Patient Positioning, and Nursing Observation Orders
11. Nursing Intervention or Treatment Orders
12. Nutritional Care Orders
13. Medication Orders
14. Laboratory Orders
15. Diagnostic Imaging Orders
16. Other Diagnostic Studies
17. Treatment Orders
18. Miscellaneous Orders

Section 4: Health Unit Coordinator Procedures

19. Admission, Preoperative, and Postoperative Procedures
20. Discharge, Transfer, and Postmortem Procedures
21. Reports, Infection Control, Emergencies, and Special Services

Section 5: Introduction to Anatomical Structures, Medical Terms, and Illnesses

22. Medical Terminology, Basic Human Structure, Diseases, and Disorders

Appendixes

Appendix A: Abbreviations
Appendix B: Word Parts
Answers
Glossary

Elaine A. Gillingham, AAS, BA, CHUC, Program Director (Retired), Health Unit Coordinator Program, GateWay Community College, Phoenix, AZ and Monica Wadsworth Seibel, BS, MEd, CHUC, Program Director, Health Unit Coordinator Program, GateWay Community College, Phoenix, AZ