Certification Review for PeriAnesthesia Nursing
,3rd Edition
Paperback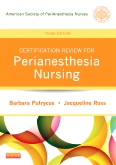 Free Shipping!
This item has low stock levels and may be back-ordered. We'll let you know if it is back-ordered, and you will not be charged until the item ships.
The only question-based CAPA and CPAN exam review available, Certification Review for PeriAnesthesia Nursing, 3rd Edition is written by the American Society of PeriAnesthesia Nurses (ASPAN) -- the leading organization for perianesthesia nursing education, practice, standards and research. A total of 600 multiple-choice review questions includes case study and clinical application questions, answers, comprehensive rationales, and references to current research. Questions are updated to reflect the latest standards of practice and ABPANC's examination blueprints. From Barbara Putrycus and Jacqueline Ross, this ASPAN practice tool helps you review the core knowledge and essential skills you need for in-hospital or ambulatory certification.
It has come to our attention that that there are errors in the 3rd edition of ASPAN/Putrycus/Ross: Certification Review for Perianesthesia Nursing. Those errors have now been corrected. Please contact Customer Service at 1-800-545-2522 and mention part number 9996090566 to receive the corrections. We sincerely apologize for any problems this may have caused.
UNIQUE! Review is based on the latest CPAN and CAPA examination blueprints, preparing you for the four core areas of knowledge tested: physiological, behavioral and cognitive, safety, and patient advocacy.
Essential core concepts and cross references to ASPAN's PeriAnesthesia Nursing Core Curriculum, 2nd Edition, are listed in the beginning of each chapter.
Case study and clinical application questions include answers, correct answer rationales, and individual rationale references for each question.
Chapters are broken into sets, with at least 20 multiple-choice questions included in each set.
Convenient index is organized by question number rather than page number.

Questions are revised or completely new to reflect the latest standards of practice and ABPANC's examination blueprints.
Updated rationales and references are provided.
New format features answers and rationales after each set of questions and also provides an answer key for all chapters at the end of the book.
A chapter outline is included at the beginning of every chapter, and thumb tabs help you navigate more easily through the book.

1. Certification of Perianesthesia Nurses: CPAN® and CAPA® Certification Programs

2. Professional Issues Applied to Perianesthesia Nursing Practice

3. Perianesthesia Considerations Across the Life Span

4. Pharmacologic Considerations

5. The Spectrum of Perianesthesia Clinical Practice

6. Cardiac, Vascular, and Pulmonary Systems

7. Physiologic Balance

8. Neurologic, Neurovascular, and Musculoskeletal Systems

9. Intraabdominal and Retroperitoneal Observations

10. Maxillofacial, Nasopharyngeal, Ophthalmic, Otologic, and Reconstructive Concepts

Answer Key

Index

ASPAN, Barbara Putrycus, RN, MSN, Surgical Services, QA/Regulatory Compliance/Infection Control, Oakwood Hospital & Medical Center, Dearborn, MI and Jacqueline Ross, RN, PhD, CPAN, Perianesthesia Nursing Consultant, Patient Safety Analyst, OHIC Insurance/The Doctors Company, Columbus, OH