Job Readiness for Health Professionals
,
Paperback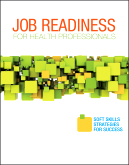 Free Shipping!
This item has low stock levels and may be back-ordered. We'll let you know if it is back-ordered, and you will not be charged until the item ships.
You might know how to properly bill patients, draw blood, or code in a professional work environment, but are you prepared to find and keep your next job? Using an easy-to-read, easy-to-follow format, Job Readiness for Health Professionals: Soft Skills Strategies for Success gives you an advantage in the job market by guiding you through what you need to know to master the essential soft skills — such as professional habits, attitudes, and personality traits — needed for every entry-level healthcare job. If you want long-term success as a working professional, then this book is for you!
Critical thinking exercises woven throughout skills include multidisciplinary scenarios from the field.
What If? boxes feature short scenarios for the you to think about how you would handle a situation in the workplace.
Case studies use fictional vignettes to illustrate the issues involved with the specific skills.
Down a Dark Road vignettes illustrate what can go terribly wrong when a skill is ignored or not mastered.
Behavioral objectives provided for mastering each skill.
Worktext format with journaling activities give you opportunities for self reflection on your skills progress.
Experiential Exercises are actions or experiments that you can perform on your own to gain a deeper appreciation for the skill.
Cross Currents with Other Skills cross references related skills, pointing out the synergies and connections between them.

Unit I: SELF-MANAGEMENT SKILLS

1. Who Are You?

Adopting a Positive Attitude: The Desire to be your Best and Do a Great Job

Managing your Time and Organizing your Life

Achieving Honesty and Integrity

Aiming to be Adaptable and Flexible

Being Dependable

2. Ready For Work

Modeling Business Etiquette

Dressing for Success

Displaying Good Grooming, Personal Hygiene, and Cleanliness

3. Being the Very Best You Can Be

Gaining Energy, Persistence, and Perseverance

Vowing to be Drug-Free and Unimpaired

Striving for Tolerance

Managing Stress

Thinking Critically

Unit II: INTERPERSONAL SKILLS

4. Being Easy to Deal With

Building Trust

Showing Empathy, Sensitivity, and Caring

5. Dealing With Others

Managing and Resolving Conflict

Dealing with Difficult People

Valuing Multicultural Competence

Answering the Phone and Connecting with Customers

Unit III: COMMUNICATION SKILLS

6. How You Present Yourself

Speaking Professionally in your Workplace

Writing, Grammar, and Spelling

7. Interacting Successfully

Listening Actively

Communicating with Special Groups of Clients

Reading and Speaking Body Language

Unit IV: CAREER BUILDING SKILLS

8. Planning for Career Success

Setting Goals and Planning Actions

Following Rules and Regulations

Maintaining Confidentiality and Discretion

Keeping Records

9. Enhancing Your Promotability

Talking to your Boss, Manager, or Supervisor

Taking Accountability

Contributing as a Member of the Team

Committing to your Profession

Unit V: EMOTIONAL SKILLS – MANAGING YOUR EMOTIONS

10. Building Personal Emotional Strengths

Building Self Esteem

Controlling Anxiety

Practicing Patience

Strengthening Resilience

11. Managing Your Emotions

Separating your Work and Personal Problems

Managing Anger and Strong Emotions

Exuding Optimism, Enthusiasm, and Positivity

Unit VI: GO FORTH AND PROSPER

12. Expect Acceptance

Acknowledgements

Annotated Bibliography

Index