Orthognathic Surgery - 2 Volume Set
Hardcover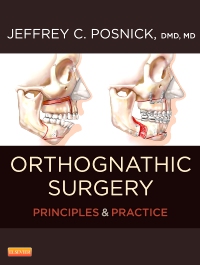 Free Shipping!
In Stock
This item has low stock levels and may be back-ordered. We'll let you know if it is back-ordered, and you will not be charged until the item ships.
Capturing the latest thinking for the evaluation and treatment of dentofacial deformities, Orthognathic Surgery: Principles and Practice, covers the basic principles and concepts of dentofacial deformities along with planning, surgical techniques, surgical complications, classic patterns, and clinical presentations. Over 5,000 clinical photos and detailed art make this a valuable reference for clinical orthodontists, craniofacial surgeons, oral and maxillofacial surgeons, and residents in training.
"It is an excellent all round educational source for any practitioner and the owner of this text is unlikely to need any other textbook on orthognathic surgery." Reviewed by J Murphy, British Dental Journal Jan 2015.
"..will be of interest to all orthodontic professionals who deal with the specialty of orthognathic surgery." Reviewed by Antonio M. Miotti on behalf of European Journal of Orthodontics, July 2015
The latest in surgical protocols for OMS and Orthodontics puts you at the forefront of the orthognathic surgery field.
Logically organized material aids you prior to developing treatment plans or in surgery.
Over 5,000 new photos and illustrations boost your understanding of key teaching points and surgical techniques.
Over 40 videos from Dr. Posnick's archive available on the companion website.

SECTION 1 Basic Principles and Concepts

1 The New Perspectives on the Face M. MICHAEL COHEN JR.

2 Pioneers and Milestones in the Field of Orthodontics and Orthognathic Surgery JEFFREY C. POSNICK, DMD, MD

3 Definition and Prevalence of Dentofacial Deformities JEFFREY C. POSNICK, DMD, MD

4 Hereditary, Developmental, and Environmental Influences on the Formation of Dentofacial Deformities JEFFREY C. POSNICK, DMD, MD

5 Orthodontic Considerations in the Evaluation and Treatment of Dentofacial Deformities JEFFREY C. POSNICK, DMD, MD

6 Periodontal Considerations in the Evaluation and Treatment of Dentofacial Deformities JEFFREY C. POSNICK, DMD, MD

7 Psychosocial Considerations in the Evaluation and Treatment of Dentofacial Deformities JEFFREY C. POSNICK, DMD, MD

8 Speech, Mastication, and Swallowing Considerations in the Evaluation and Treatment of Dentofacial Deformities JEFFREY C. POSNICK, DMD, MD

9 Temporomandibular Disorders: Effects of Occlusion, Orthodontic Treatment, and Orthognathic Surgery JEFFREY C. POSNICK, DMD, MD

10 Nasal Airway Considerations in the Evaluation and Treatment of Dentofacial Deformities JEFFREY C. POSNICK, DMD, MD

11 Anesthesia Techniques, Blood Loss/Fluid Replacement, Airway Management & Convalescence in the Treatment of Dentofacial Deformitie JEFFREY C. POSNICK, DMD, MD

SECTION 2 Planning, Surgical Technique, and Complications

12 Orthognathic Surgery Treatment Planning JEFFREY C. POSNICK, DMD, MD

13 Standard Analytic Model Planning for Orthognathic Surgery JEFFREY C. POSNICK, DMD, MD

14 Mandible-First Analytic Model Planning for Orthognathic Surgery JEFFREY C. POSNICK, DMD, MD

15 Sequencing of Orthognathic Procedures:Step-by-Step Approach JEFFREY C. POSNICK, DMD, MD

16 Complications Associated with Orthognathic Surgery JEFFREY C. POSNICK, DMD, MD

17 Malocclusion after Orthodontics and Orthognathic Surgery: Prevention and Treatment Pitfalls JEFFREY C. POSNICK, DMD, MD

18 Grafts Frequently Used During Orthognathic Surgery and for Adjunctive Procedures JEFFREY C. POSNICK, DMD, MD

Jeffrey C. Posnick, DMD, MD, FRCS(C), FACS, Professor Emeritus, Plastic and Reconstructive Surgery & Pediatrics Georgetown University School of Medicine, Washington, DC Professor of Orthodontics University of Maryland, Baltimore College of Dental Surgery Professor of Oral and Maxillofacial Surgery Howard University College of Dentistry, Washington, DC