Medical Assisting Online for Today's Medical Assistant (User Guide and Access Code)
,2nd Edition
Online Course - Access Card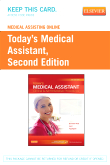 Free Shipping!
In Stock
This item has low stock levels and may be back-ordered. We'll let you know if it is back-ordered, and you will not be charged until the item ships.
Reinforce your medical assisting skills with online learning! Corresponding to CAAHEP and ABHES competencies and to Bonewit-West's Today's Medical Assistant: Clinical & Administrative Procedures, 2nd Edition, Medical Assisting Online helps you learn and perform common administrative and clinical skills. A variety of exercises provide realistic experience and practice with the competencies you are expected to master. Featuring active, hands-on learning, MAO provides effective preparation for class, labs, and jobs.
Duration for access to this product is for the life of the edition.
Active, hands-on learning is promoted with modules that are mapped to core Medical Assisting competencies in the textbook.
Competency-based training activities provide opportunities to learn, apply, and practice skills in a safe virtual environment.
Review questions ensure that you understand the material before you proceed, and include feedback for both right and wrong answers.
Lesson quizzes measure your comprehension of the content and provide feedback, with scores automatically submitted to the instructor.
Video clips demonstrate commonly performed clinical skills and procedures step by step.
Glossary provides quick access to definitions of key terms with links at the point when they are introduced.
Pop-up boxes provide in-depth explanations of concepts, detailed illustrations, and examples of forms.

Updated content reflects the latest CAAHEP and ABHES competencies and familiarizes you with current trends and practices.

Module 1.1: The Health Care System

Module 2.1: The Professional Medical Assistant

Module 3.1: Ethics and Law for the Medical Office

Module 4.1: Interacting with Patients

Module 5.1: Introduction to Anatomy and Physiology

Module 6.1: Integumentary System

Module 7.1: Skeletal System

Module 8.1: Muscular System

Module 9.1: Nervous System

Module 10.1: Sensory System

Module 11.1: Endocrine System

Module 12.1: Circulatory System

Module 13.1: Respiratory System

Module 14.1: Digestive System

Module 15.1: Urinary System

Module 16.1: Reproductive System

Module 17.1: Medical Asepsis

Module 17.2: OSHA Bloodborne Pathogens Standard

Module 18.1: Sterilization and Disinfection

Module 19.1: Vital Signs

Module 20.1: The Physical Examination

Module 21.1: Eye and Ear Assessment and Procedures

Module 22.1: Physical Agents to Promote Tissue Healing

Module 23.1: The Gynecologic Examination and Prenatal Care

Module 24.1: The Pediatric Examination

Module 25.1: Minor Office Surgery

Module 26.1: Administration of Medication

Module 26.2: Tuberculin and Allergy Testing

Module 27.1: Electrocardiography

Module 27.2: Pulmonary Function Tests

Module 28.1: Specialty Examinations: Colon Procedures

Module 28.2: Specialty Examinations: Radiology and Diagnostic Imaging

Module 29.1: Introduction to the Clinical Laboratory

Module 30.1: Collection of Urine for Urinalysis

Module 30.2: Urinalysis

Module 31.1: Phlebotomy: Venipuncture

Module 31.2: Phlebotomy: Skin Puncture

Module 32.1: Hematology

Module 33.1: Blood Chemistry and Serology

Module 34.1: Medical Microbiology: Collection of Specimens

Module 34.2: Medical Microbiology: Testing Specimens

Module 35.1: Emergency Medical Procedures

Module 36.1: The Medical Record

Module 36.2: Confidentiality and the Patient Medical Record

Module 37.1: Patient Reception

Module 38.1: Medical Office Computerization

Module 39.1: Telephone Techniques

Module 40.1: Scheduling Appointments

Module 41.1: Medical Records Management

Module 42.1: Written Communications

Module 43.1: Mail

Module 44.1: Managing Practice Finances

Module 44.2: Banking Activities

Module 45.1: Medical Coding

Module 46.1: Introduction to Medical Insurance

Module 46.2: Insurance Claims

Module 47.1: Perform Billing and Collection Procedures

Module 48.1: The Medical Assistant as Office Manager

Module 49.1: Emergency Protective Practices for the Medical Office

Module 50.1: Obtaining Employment