A Practical Guide to Therapeutic Communication for Health Professionals - Elsevier eBook on VitalSource
,
Elsevier eBook on VitalSource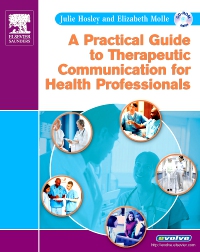 Or $0.00 with a valid access code
This new textbook is designed to provide students with all the necessary tools to effectively communicate with patients and other health care professionals. With its easy-to-read style, it is loaded with useful tips to help students engage into the practice of communication. It presents condensed amounts of content for learning the basic principles and then integrating elements such as case scenarios, questions, or hints and tips to encourage application of those principles into real-life situations.
Easy-to-read style provides practical information, hints, and tips.
Test Your Communication IQ boxes provide students with a short self-assessment test at the beginning of each chapter.
Spotlight on Future Success boxes provide students with useful, practical tips for improving communication.
Taking the Chapter to Work boxes integrated within each chapter are actual case examples with useful tips to guide students to practice and apply what they have learned.
Beyond the Classroom Activities exercises at the end of each chapter help students use knowledge learned from topics presented in the chapter.
Check Your Comprehension exercises at the end of each chapter provide questions and activities to test student knowledge of chapter content.
Communication Surfer Exercises focus on helping students utilize Internet resources to improve their knowledge and application of communication skills.
Expanding Critical Thinking at the end of each chapter provides students with additional questions or activities designed to apply critical thinking skills.
Legal Eagle boxes provide useful tips that focus on honesty, as well as ethical and legal communication between patients and health care workers.
Unique, interactive CD-ROM, packaged with the textbook, includes a variety of application exercises, such as voice mail messages, patient/caregiver interviews, chapter key points, and patient charts.
Audio segments on the CD-ROM provide communication in action to help students observe verbal communication examples and apply their skills.

1. Introduction to Communication: Building the Framework
2. Challenges to Communication: Overcoming the Barriers
3. Gathering Information: Learning About the Patient
4. Education Patients: Teaching Patients to Help Themselves
5. Communicating Wellness: What Does It Take to be Healthy?
6. Communication Through the Grief Process: When Words are Not Enough
7. Written Communication: It's More Than Just Words
8. Communicating in the Workplace: It's More Than Just Patients
9. Communicating to Get the Job You Want: Four Key Tools

Glossary
Common Spanish Phrases

Julie Hosley, RN, CMA, Retired Medical Assisting Program Director, Carteret Community College, Morehead City, NC and Elizabeth Molle-Matthews, RN, CEN, CCRN, Nurse Educator, Middlesex Hospital, Midland, CT