Veterinary Anesthesia Drug Quick Reference - Elsevier eBook on VitalSource (Retail Access Card)
,
Elsevier eBook on VitalSource - Access Card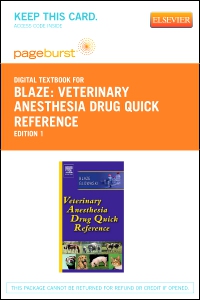 Or $0.00 with a valid access code
Free Shipping!
This item has low stock levels and may be back-ordered. We'll let you know if it is back-ordered, and you will not be charged until the item ships.
This valuable reference is designed for quick access to clinically relevant anesthetic agents and techniques. This pocket reference contains anesthetic drugs, as well as those used perioperatively, descriptions and dosing information in commonly anesthetized species, and the various routes of administration commonly used in the practice of clinical veterinary anesthesia.
Contains more than 50 drugs listed alphabetically for ease of reference
Information is presented in a standardized, logical format for quick access
Presents advantages and disadvantages of each agent
Contains special sections on drug cocktails, nerve block techniques, and ECG analysis

Acepromazine
Atipamezole
Atracurium
Atropine
Bupivacaine
Buprenorphine
Butorphanol
Carprofen
Detomidine
Diazepam
Dobutamine
Dopamine
Doxapram
Duramorph
Edrophonium
EMLA cream
Ephedrine
Etomidate
Fentanyl
Fentanyl Transdermal Patch
Flumanezil
Furosemide
Glycopyrrolate
Guaifenesin
Halothane
Hydromorphone
Innovar-Vet
Isoflurane
Isoproterenol
Ketamine
Ketoprofen
Lidocaine
Meperidine
Methadone
Mepivacaine
Methohexital
Midazolam
Morphine
Nalbuphine
Naloxone
Nitrous Oxide
Neostigmine
Oxymorphone
Pancuronium
Propofol
Sevoflurane
Telazol
Thiopental
Vecuronium
Xylazine
Yohimbine
Drug cocktails, infusions
Equine (triple drip)
Cattle, sheep, goat
Llama
Pig
Dog, cat
Rabbit
Ferret
Local nerve blocks
Local anesthetics
Epidural
Paravertebral
Brachial plexus
Intercostal
interpleural
Dental
Dehorn goats
Declaw cats
Neuromuscular blockade
Monitoring
Technique and drugs
Reversal
ECG
Counting heart rate from ECG strip
Respiratory sinus arrhythmia
Atrial fibrillation
A-V block
Bundle branch block
Bigeminy
Ventricular premature contractions
Ventricular fibrillation
Fluids
Calculation of flow rate
Composition of fluids
Blood and blood substitutes
Blood
Hetastarch
Dextran
Oxyglobin
Plasma
Hypertonic saline
Emergencies/urgent cases
Cardiopulmonary resuscitation
Urolithiasis cat
Urolithiasis goat
Urolithiasis dog
Ruptured bladder foal
Gastric dilation volvulus
Intervertebral disk herniation
Diaphragmatic hernia
Septic abdomen, Intestinal foreign body
Colic horse
Caesarean
Other special cases
Pyometra
Tracheal foreign body
Adrenalectomy
Ophthalmic cases
Chylothorax, other thoracic
Anemic patient
Diabetic
Hit-by-car fracture
Seizure history
Aggressive dogs
Aggressive cats
Delayed recovery from anesthesia
Foals
Llamas
Pigs
Miscellaneous
Consumption of isoflurane
MAC of volatile anesthetics
Factors affecting MAC
Opiate receptor types
Conversion tables
Temperature

Cheryl A. Blaze, BVSc, PhD, MABA, Assistant Professor Department of Clinical Sciences, Tufts Uniersity School of Veterinary Medicine Grafton, MA and Maria M. Glowaski, DVM, DACVA, Anesthesiologist, Department of Surgical & Radiological Services, University of California-Davis, School of Veterinary Medicine, Davis, CA; Adjunct Clinical Assistant Professor, Department of Clinical Sciences, Tufts University School of Veterinary Medicine, USA