Equine Podiatry - Elsevier eBook on VitalSource (Retail Access Card)
,
Elsevier eBook on VitalSource - Access Card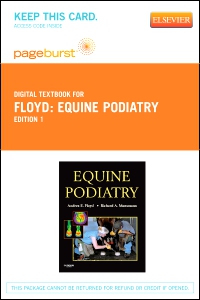 Or $0.00 with a valid access code
Free Shipping!
This item has low stock levels and may be back-ordered. We'll let you know if it is back-ordered, and you will not be charged until the item ships.
This comprehensive text not only covers basic principles of horseshoeing, but also focuses on medical and surgical foot care management. Starting with the anatomy and physiology of the equine foot, this one-of-a-kind book then evaluates the foot, its pathological conditions (including structural, developmental, and traumatic conditions in addition to laminitis), balancing and shoeing the healthy and diseased equine hoof, and ends with a chapter on new directions in equine podiatry, written by cutting-edge researchers in the field.
Written by and for both veterinarians and farriers, this book makes it easier for veterinarians and farriers to collaborate on the proper care and shoeing of the horse's foot.
Text is devoted entirely to equine podiatry — with 70 percent to 80 percent of lameness problems involving the foot, this comprehensive discussion is invaluable to the equine practitioner.
Highly respected and qualified authors from all over the world provide expert information, along with a chapter on the future of equine podiatry.
Beautiful 4-color design and art program gives the reader helpful visual aids that clarify explanations in the text.

SECTION I: Anatomy and Physiology of the Equine Foot
Chapter 1 Gross Anatomy: Structure and Function
Chapter 2 Biomechanics of the Equine Hoof
Chapter 3 Microscopic Anatomy and Physiology
Chapter 4 Hoof Nutrition

SECTION II: Diagnostic Evaluation of the Equine Foot
Chapter 5 Visual Inspection and Manual Evaluation
Chapter 6 Diagnostic Analgesia of the Equine Foot
Chapter 7 Diagnostic Imaging

SECTION III: Pathological Conditions of the Equine Foot
Chapter 8 Developmental Conditions
Chapter 9 Pathologic Conditions of the External Hoof Capsule
Chapter 10 Pathologic Conditions of the Internal Hoof Capsule
Chapter 11 Chronic Heel Pain
Chapter 12 Laminitis

SECTION IV: Balancing and Shoeing the Equine Hoof
Chapter 13 Principles of Trimming and Shoeing
Chapter 14 Discipline-Specific Trimming and Shoeing
Chapter 15 Shoeing the Diseased Hoof
Chapter 16 Shoeing the Diseased Limb

SECTION V: New Directions in Equine Podiatry
Chapter 17 Digital Amputation and Prosthetic Management
Chapter 18 Preventive Footcare
Chapter 19 Client/Farrier/Veterinarian Relations
Chapter 20 The Future of Equine Podiatry

Bibliography
Appendix
Index

Andrea Floyd, DVM, Serenity Equine, Evington, VA and Richard Mansmann, VMD, PhD, Clinical Professor, College of Veterinary Medicine, North Carolina State University, Raleigh, NC; Director of the Podiatry and Rehabilitation Services, North Carolina Equine Health Center at Southern Pines, Southern Pines, NC