Contraindications in Physical Rehabilitation - Elsevier eBook on VitalSource (Retail Access Card)
,
Elsevier eBook on VitalSource - Access Card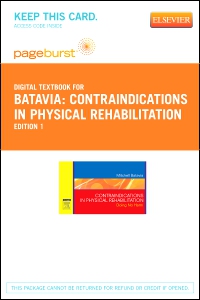 Or $0.00 with a valid access code
Free Shipping!
This item has low stock levels and may be back-ordered. We'll let you know if it is back-ordered, and you will not be charged until the item ships.
This essential handbook provides clinicians with a summary of contraindications and precautions to review before treating patients seeking physical rehabilitation. This detailed resource discusses all of the contraindications in one convenient source and includes the full range of interventions, ranging from physical agents to supportive devices to therapeutic exercises. Organized by ICD categories and referenced from multiple sources, with strong coverage of adverse events, this handbook helps to ensure safe practice.
Provides crucial, easily accessible information to refresh therapists on contraindications that may not fall within their routine area of treatment.
Covers the full range of interventions in detail, including the purpose of the intervention, mechanism, contraindications and precautions, rationale, and references.
Helps ensure that practitioners do no harm, providing safer client care and addressing clients with pre-existing conditions.
Uses terminology from The Guide to Physical Therapist Practice, reinforcing the use of up-to-date language.
Presents quality information from a highly renowned author, with evidence-based information throughout.

Part I: Overview


Part II: Tests & Measures

Chapter 1: Blood Pressure Assessment

Chapter 2: Electrodiagnostic Testing

Chapter 3: Exercise Testing

Chapter 4: Screening For Falls In Older Persons

Chapter 5 Mobility Testing

Chapter 6 Pain Assessment

Chapter 7 Strength Testing: Isokinetic Testing & Evaluation (Class Ii Devices)


Part III: Interventions

Chapter 8 Coordination: Communication And Documentation

Chapter 9 Patient Instructions

Chapter 10 Infection Control


Section A Therapeutic Exercise

Chapter 11 Aerobic

Chapter 12 Balance And Coordination

Chapter 13 Flexibility Exercises

Chapter 14 Gait And Locomotion Training

Chapter 15 Relaxation Techniques (Progressive Muscle Relaxation)

Chapter 16 Strength, Power, And Endurance Training


Section B Functional Training: Self-Care

Chapter 17 Activities Of Daily Living (Basic)

Chapter 18 Public Accessibility

Section C Functional Training: Work/Community/Leisure

Chapter 19 Sport Activities

Chapter 20 Older Drivers With Acute Or Chronic Medical Conditions (Includes Noncommercial Motor Vehicles, Excludes Commercial Drivers)


Section D: Manual Therapy Techniques

Chapter 21: Manual Lymphatic Drainage

Chapter 22: Connective Tissue Massage (Bindegewebsmassage)

Chapter 23: Therapeutic Massage (Includes Western Techniques, Swedish, Classic; Excludes Eastern Technique, Shiatsu)

Chapter 24: Myofascial Release

Chapter 25: Joint Mobilization (Articulation, Nonthrust Technique; Nonimpulse Technique)

Chapter 26: Spinal Manipulation

Chapter 27: Muscle Energy Technique


Section E: Prescription, Application, Fabrication Of Devices And Equipment

Chapter 28: Adaptive Devices

Chapter 29: Assistive Devices

Chapter 30: Exercise Equipment

Chapter 31: Orthotics

Chapter 32: Prosthetics

Chapter 33: Protective Devices

Chapter 34: Supportive Devices


Section F: Airway Clearance Technique

Chapter 35: Breathing

Chapter 36: Manual/Mechanical Techniques

Chapter 37: Postural Drainage (Bronchial Drainage)


Section G: Integument Repair & Protection Techniques

Chapter 38: Wound Care


Section H: Electrotherapeutic Modalities

Chapter 39: Biofeedback

Chapter 40: Iontophoresis

Chapter 41: Electrical Stimulation


Section I: Physical Agents And Mechanical Modalities

Chapter 42: Cryotherapy (Cold Therapy)

Chapter 43: Diathermy

Chapter 44: Hydrotherapy

Chapter 45: Light Agents

Chapter 46: Sound Agents

Chapter 47: Thermotherapy

Chapter 48: Vasopneumatic Compression Devices

Chapter 49: Gravity-Assisted Compression Devices

Chapter 50: Continuous Passive Motion

Chapter 51: Spinal Traction


Section J: Complementary & Alternative Medicine

Chapter 52: Acupuncture

Chapter 53: Aromatherapy

Chapter 54: Craniosacral Therapy

Chapter 55: Hippotherapy

Chapter 56: Hypnosis

Chapter 57: Qigong

Chapter 58: Shiatsu

Chapter 59: Therapeutic Touch

Chapter 60: Trager (Psycho-Physical Integration)

Chapter 61: Yoga


Section K: Injection Therapy

Chapter 62: Injection Therapy

Chapter 63: Trigger Point Injection


Section L: Medication Interactions

Chapter 64: Potential Drug Interactions In Physical Medicine


Section M: Positioning And Draping

Chapter 65: Positioning

Chapter 66: Draping


Part IV: Screening Forms

Part V: Appendix

Mitchell Batavia, PhD, PT, Associate Professor of Physical Therapy, School of Education, New York University, New York, NY, USA