Procedures Manual to Accompany Dental Hygiene - Pageburst E-Book on VitalSource (Retail Access Card)
,
Elsevier eBook on VitalSource - Access Card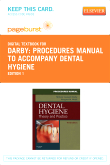 Or $0.00 with a valid access code
Free Shipping!
This item has low stock levels and may be back-ordered. We'll let you know if it is back-ordered, and you will not be charged until the item ships.
This is a Pageburst digital textbook; the product description may vary from the print textbook.
Reinforce your classroom knowledge and learn to perform clinical procedures with ease and accuracy. The Procedures Manual to Accompany Dental Hygiene: Theory and Practice contains step-by-step descriptions with information about the materials and equipment necessary to carry out the procedures. Rationales are included to ensure that you comprehend the science behind each step of the procedure. The manual also includes client education handouts and helpful tables and lists covering assessment, evaluation, and general client care. You'll want to keep this book by your side as a quick reference in clinics and as a refresher once you start your practice.
Procedures include simple, clear illustrations and rationales for each step.
Client education handouts and physical assessment and communication tips provide targeted resources for your role in the prevention of oral diseases.
The easy-to-use format makes it a handy and highly portable reference.

PART 1: DENTAL HYGIENE PROCEDURES

Section 2: Preparation for the Appointment

Chapter 8: Medical Emergencies

Procedure 8-1: Initial Assessment
Procedure 8-2: Rescue Breathing–Adult, Child, Infant
Procedure 8-3: Single-Rescuer CPR–Adult, Child, Infant
Procedure 8-4: Two-Rescuer CPR–Adult and Child
Procedure 8-5: Single-Rescuer CPR Using an AED–Adult and Child
Procedure 8-6: Conscious Choking–Adult and Child
Procedure 8-7: Unconscious Choking–Adult and Child
Procedure 8-8: Conscious Choking–Infant
Procedure 8-9: Unconscious Choking–Infant

Section 3: Assessments

Chapter 11: Vital Signs

Procedure 11-1: Taking an Oral Temperature Measurement with a Mercury-in-Glass Thermometer
Procedure 11-2: Taking an Oral Temperature Measurement with an Electric Thermometer
Procedure 11-3: Measuring the Radial Pulse
Procedure 11-4: Measuring Respirations
Procedure 11-5: Assessing Blood Pressure by Auscultation

Chapter 13: Extraoral and Intraoral Clinical Assessment

Procedure 13-1: Conducting Extraoral Assessments
Procedure 13-2: Conducting Intraoral Assessments

Chapter 14: Assessment of the Dentition

Procedure 14-1: Use of an Electric Pulp Tester to Determine Pulp Vitality

Chapter 15: Oral Hygiene Assessment: Soft Deposits and Hard Deposits

Procedure 15-1: Oral Deposit Assessment

Section 5: Implementation

Chapter 22: Mechanical Plaque Biofilm Control: Interdental & Supplemental Self-Care Devices

Procedure 22-1: Spool Flossing Method–Adults
Procedure 22-2: Loop Flossing Method–Children and Clients with Limited Manual Dexterity
Procedure 22-3: Use of a Floss Holder
Procedure 22-4: Use of a Floss Threader
Procedure 22-5: Use of a Toothpick in a Toothpick Holder
Procedure 22-6: Use of a Wedge Stimulator
Procedure 22-7: Use of a Rubber Tip Stimulator
Procedure 22-8: Use of an Interdental Brush
Procedure 22-9: Use of a Tongue Cleaner
Procedure 22-10: Use of a Dental Water Jet–Jet Tip

Chapter 24: Hand-Activated Instruments

Procedure 24-1: Basic Positioning for Assessment and Treatment
Procedure 24-2: Use of the Periodontal Probe
Procedure 24-3: Use of the Periodontal Explorer
Procedure 24-4: Use of the Anterior Sickle Scaler
Procedure 24-5: Use of the Posterior Sickle Scaler
Procedure 24-6: Use of the Universal Curet
Procedure 24-7: Use of Area-Specific Curets
Procedure 24-8: Operator Positioning Strategies of Protective Scaling

Chapter 25: Ultrasonic Instrumentation

Procedure 25-1: Instrumentation with the Magnetostrictive Ultrasonic Unit

Chapter 26: Root Morphology and Instrumentation Applications

Procedure 26-1: Root Morphology and Implications for Root Instrumentation

Chapter 27: Management of Extrinsic and Intrinsic Stains

Procedure 27-1: Rubber-Cup Polishing
Procedure 27-2: Air Polishing

Chapter 28: Decision Making Related to Nonsurgical Periodontal Therapy

Procedure 28-1: Use of Extended-Shank and Mini-Blade Curets

Chapter 29: Chemotherapy for the Control of Periodontal Diseases

Procedure 29-1: Placement of Controlled-Release Drug: Tetracycline Fiber
Procedure 29-2: Placement of Controlled-Release Drug: Chlorhexidine Chip
Procedure 29-3: Placement of Controlled-Release Drug: Doxycycline Gel
Procedure 29-4: Placement of Controlled-Release Drug: Minocycline Hydrochloride Microspheres

Chapter 30: Acute Gingival and Periodontal Conditions, Lesions of Endodontic Origin, and Avulsed Teeth

Procedure 30-1: Emergency Management of the Avulsed Tooth

Chapter 31: Caries Management: Fluorides, Chlorhexidine, Xylitol, and Amorphous Calcium Phosphates

Procedure 31-1: Professionally Applied Topical Fluoride Using the Tray Technique
Procedure 31-2: Profession

Michele Leonardi Darby, BSDH, MS, Eminent Scholar, University Professor, Graduate Program Director, G.W. Hirschfield School of Dental Hygiene and Dental Assisting, College of Health Sciences, Old Dominion University, Norfolk, VA and Margaret Walsh, RDH, MS, MA, EdD, Professor, Department of Preventative and Restorative Dental Sciences, Graduate Program Director, Dental Hygiene Master of Science Program, School of Dentistry, University of California, San Francisco, San Francisco, CA