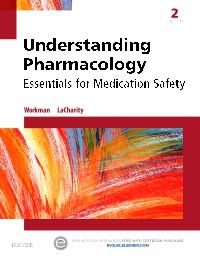 Publication Date:
11-25-2015
Understanding Pharmacology, 2nd Edition
Paperback
Publication Date:
11-25-2015
Don't settle for rote memorization when you can give your students a solid understanding of specific drugs and broader pharmacology concepts. Understanding Pharmacology: Essentials for Medication Safety, 2nd Edition uses a unique combination of simplified language, easy-to-follow headers, and engaging boxes and icons — such as Memory Joggers, Clinical Pitfalls, Do Not Confuse, and Drug Alerts — to help your students really understand how drugs work instead of simply memorizing drug information. In addition to the popular critical thinking activities from the first edition, the second edition also includes more chapter review questions, updated content, and a new organization centered on the different body systems to ensure students are equipped with all the tools and information they need to safely prepare or administer drugs.
Entire unit reviewing math, weights and measures, and dosage calculation minimizes readers' anxiety and promotes medication safety.
Clever, easy-to-recognize margin icons help visual learners remember essential side effects of drugs.
Simplified heading structure replaces intimidating terminology (i.e. pharmacokinetics) with simplified language (How These Drugs Work) to increase understanding of concepts.
Drug Alert!, Do-Not-Confuse, and Clinical Pitfall boxes highlight important tips for safe medication administration.
Memory Jogger boxes help readers remember important drug information.
Get Ready for Practice sections at the end of each chapter include key points, chapter review questions, and critical thinking activities to reinforce learning.
10th grade reading level uses straightforward, everyday language to really enhance readers' understanding of pharmacology concepts.
Incorporation of adult learning theory features both a simple to complex organization of material along with answers to why readers need to learn something.

NEW! Body system organization helps readers better understand drugs that are specific to particular body systems.
NEW! More chapter review questions have been added to the text. All review questions are now organized into one of two categories: Test Yourself on the Basics and Test Yourself on Advanced Concepts.

UNIT I: General Aspects of Pharmacology 1. Drug Regulation, Actions, and Responses 2. Safely Preparing and Giving Drugs UNIT II: Mathematics for Pharmacology and Dosage Calculation 3. Mathematics Review and Introduction to Dosage Calculations 4. Medical Systems of Weights and Measures 5. Dosage Calculation of Intravenous solutions and Drugs UNIT III: Pharmacology For Multisystem Application 6. Anti-Inflammatory Drugs 7. Drugs for Pain Control 8. Anti-Infectives: Antibacterial Drugs 9. Anti-Infectives: Antiviral Drugs 10. Anti-Infectives: Antitubercular and Antifungal Drugs 11. Immunizations 12. Anticancer Drugs Unit IV: Drug Therapy for Endocrine Problems 13. Drug therapy for Diabetes 14. Drug Therapy for Thyroid and Adrenal Gland Problems Unit V: Drug Therapy for Problems of the Circulatory and Cardiac Systems 15. Drug Therapy Affecting Urine Output 16. Drug Therapy for Hypertension 17. Drug Therapy for Heart Failure 18. Drug Therapy for Dysrhythmias 19. Drug Therapy for High Blood Lipids 20. Drug Therapy to Disrupt Clotting Unit VI: Drug Therapy for Respiratory System Problems 21. Drug Therapy for Asthma, Chronic Obstructive Pulmonary Disease, and Pulmonary Fibrosis/Hypertension Unit VII: Drug Therapy for Gastrointestinal System Problems 22. Drug Therapy for Gastrointestinal Dysfunction 23. Drug Therapy for Gastric Ulcers and Reflux 24. Drug Therapy with Nutritional Supplements Unit VIII: Drug Therapy for Nervous System Problems 25. Drug Therapy for Seizures 26. Drug Therapy for Parkinson's and Alzheimer's Diseases 27. Drug Therapy for Psychiatric Problems 28. Drug Therapy for Insomnia 29. Drug Therapy for Eye Problems Unit IX: Drug Therapy for Problems of the Musculoskeletal System 30. Drug Therapy for Osteoporosis and Muscle Relaxation Unit X: Drug Therapy for Problems of the Reproductive System 31. Drug Therapy for Male Reproductive Problems 32. Drug Therapy for Female Reproductive Problems

Glossary Index

M. Linda Workman, PhD, RN, FAAN, Visiting Professor, Case Western Reserve University, Cleveland, Ohio and Linda A. LaCharity, PhD, RN, Formerly, Accelerated Program Director and Assistant Professor, College of Nursing, University of Cincinnati, Cincinnati, Ohio
In Stock
Most review copies are eBooks – how fast!