Career Advancement Program for ICD-10-PCS (User Guide and Access Code)
,
Online Course - Access Card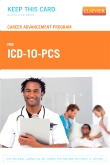 Designed to help professional medical coders achieve four Continuing Education Units (CEUs) recognized by the American Associate of Professional Coders (AAPC), this short online program prepares students to tackle the transition from ICD-9 Volume 3 Procedure Codes to ICD-10-PCS. In particular, students will become aware of the potential obstacles posed by the transition to ICD-10 coding in regards to coding a range of treatments and surgical procedures. The ICD-10-PCS codes will be designed for use in relation to hospital in-patient use only, so this short program should appear to professional coders currently coding in-patient hospital treatments or those who are interested in such work. Students who complete this short course will be trained on how to navigate this major shift in how medical coding and billing work.
This program includes:

General Equivalency Mapping (GEMs) files to locate ICD-10-PCS codes
Learning activities
Assessment exams
Critical thinking questions
Web links
And more!