Career Advancement Program for HIPAA (User Guide and Access Code)
,
Online Course - Access Card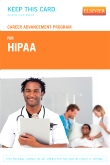 This short program is designed to provide healthcare professionals with insight into how the Health Insurance Portability and Accountability Act (HIPAA) and other related legislation regulate the way health records are managed. Covering the requirements outlined in the HIPAA Privacy Rule, procedures used to remain compliant with the Privacy Rule, patient rights under HIPAA, and the role of the Office of Civil Rights (OCR) in investigating reports of HIPAA-related complaints, this program is perfect for any medical professional seeking a background in healthcare privacy standards and the steps health professionals should take to remain HIPAA-compliant.
This program includes:

Online lessons
Printable Certificate of Completion
Learning activities
Hyperlinked terms
And more!