Career Advancement Program for Electronic Health Records Specialist (User Guide and Access Code)
,
Online Course - Access Card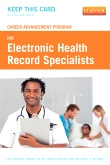 Designed to prepare students to sit for the Electronic Health Record Specialist Certification (CEHRSTM) Exam offered by the National Healthcare Association, this short course uses a mix of online and in-person instruction to cover the skills needed to access and work within an electronic health records system for clinical, administrative, and reimbursement purposes. This program is also a good fit for students entering a wide range of healthcare fields in which a practical knowledge of electronic healthcare record management and patient privacy is valued.
This program includes:

Access to the Pageburst digital book: The Electronic Health Record for the Physician's Office by Amy DeVore
Electronic Health Records Specialist online course, including:

Over 30 online lessons
Interactive exercises
Quizzes
Post-tests
And more!