Principles and Practice of Single Implant and Restoration
,
Hardcover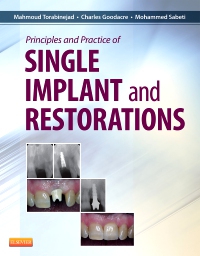 Free Shipping!
In Stock
This item has low stock levels and may be back-ordered. We'll let you know if it is back-ordered, and you will not be charged until the item ships.
Covering treatment planning to restoration, Principles and Practice of Single Implant Restorations is the first book specifically designed to train Endodontists and General Dentists for a single tooth implant and restorations. It describes surgical principles, implant placement, implant site preparation, bone grafts and bone substitute materials, tooth extraction, guided bone regeneration, immediate implant placement, surgical defects, and single-tooth esthetic considerations. Expert authors Dr. Mahmoud Torabinejad, Dr. Charles Goodacre, and Dr. Mohammed Sabeti provide detailed guidelines for the use of single tooth implants as an appropriate and compelling treatment tool.
Single tooth implants have been established as a new tool by the AAE, allowing you to use single tooth implants as a part of overall treatment planning for patients with a tooth that must be extracted.
Easy-to-follow content generally follows the diagnosis and treatment planning for a single tooth implant and restoration, describing how a clinician might actually perform a single tooth implant.
Unique! Instructions designed exclusively for Endodontists and General Dentists doing endodontic work help you use single tooth implants to treat a diseased single tooth.
Expert authors Torabinejad, Goodacre, and Sabeti are AAE leaders as well as instructors at Loma Linda University, one of the first schools to have a Master's-level course in single-tooth implants, and have recruited contributors from top names in the endodontic and implant fields.

1. History of Single Tooth Implants

Shane N. White, Mohammad A. Sabeti

From ancient times to the pioneering era

Osseointegration and the scientific era

From the fully edentulous state to single tooth replacement

Diagnostic technological innovations

Implant design innovations

Surgical innovations

Prosthetic innovations

2. Diagnosis and Treatment Planning for Single Tooth Implants

Mahmoud Torabinejad, Hessam Nowzari

Etiology and treatment of tooth loss

Extraction without any tooth replacement

Tooth extraction and replacement with a fixed partial denture

Tooth extraction and replacement with a single tooth implant

3. Single Implants

Mohammed Sabeti, Amir Reza Rokn

Classification

Osseous considerations

Soft Tissue considerations

Implant Configuration

Surgical Technique for Single Implants

Long-term Prognosis

4. Bone Physiology, Metabolism, and Biomechanics in Implant Therapy

W. Eugene Roberts, Clark M. Stanford

Osteology of the maxilla and mandible

Bone physiology

Bone tissue responses to dental implant placement

Skeletal adaptation: bone modeling and remodeling

Dental implants and bone responses

5. Bone Grafts and Bone Substitute Materials

Alan S. Herford, Enrico Stoffella, Clark M. Stanford

Overview of different types of biomaterials

Autogenous bone

Allografts and alloplasts

Xenografts

Osteoinductive materials

Summary of surgical procedures for grafting

Management of complications

6. Tooth Extraction and Site Preservation

Nicholas Caplanis, Jaime Lozada, and Juan Mesquida

Alveolar bone healing following tooth extraction

Scientific validation for site preservation

Surgical techniques for minimally invasive tooth extraction

Surgical techniques for site preservation

Prosthetic manipulation of soft tissues during healing

Clinical outcome analysis of alveolar preservation techniques

7. Implant Placement with Simultaneous Guided Bone Regeneration

Mohammed A. Sabeti, Lewis C. Cummings

Criteria for simultaneous guided bone regeneration

Clinical evaluation of the patient

Radiographic examination

Guided bone regeneration for implant site development

Flap implant surgery

8. Immediate Implant Placement and Provisionalization of Maxillary Anterior Single Implants

Joseph Y. K. Kan, Kitichai Rungcharassaeng

Diagnosis & treatment planning

Clinical procedure: fabrication of provisional restoration

Surgical procedure

Postoperative instruction

Definitive restoration

9. Restoration of the Single Tooth Implant

Charles J. Goodacre, Mathew Kattadiyil

Implant survival and complications data

Design principles

Immediate implant placement and loading

Clinical and laboratory procedures

10. Dental Implant Maintenance

Nowzari Jorgensen

Periodontitis vs Peri-implantitis

Characteristics of healthy, stable dental implants

Dental implant maintenance program

Frequency of maintenance appointments

Indications for surgical intervention

Patient performed implant hygiene procedures

11. The Relevance of Scientific Evidence in the Decision Making Process: Treatment Outcomes in Single Tooth Implant Therapy

Juan Mesquida, Jaime L. Lozada, Aladdin Al-Ardah, Chun-Xiao Sun, and Charles Goodacre

Clinical outcomes

Complications

Psychosocial outcomes

Economic outcomes

Esthetic outcomes

Mahmoud Torabinejad, DMD, MSD, PhD, Professor and Program Director, Department of Endodontics, School of Dentistry, Loma Linda University, Loma Linda, CA, Mohammed Sabeti, DMD and Charles Goodacre, DDS, MSD, Associate Professor of Fixed and Removable Partial Prosthodontics