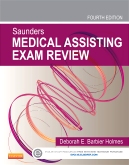 Saunders Medical Assisting Exam Review
,4th Edition
Paperback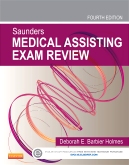 In Stock
This item has low stock levels and may be back-ordered. We'll let you know if it is back-ordered, and you will not be charged until the item ships.
With updated rview questions and practice tests, Saunders Medical Assisting Exam Review, 4th Edition helps your students prepare for and pass the CMA, RMA, CMAS, CCMA, and CMAA certification exams. An outline format makes it easy to review core concepts and competencies; realistic practice tests simulate the exam experience and help to build test-taking confidence. This edition adds coverage of three certifications — CMAS, CCMA, and CMAA. Also included is an Evolve companion website with over 1,500 practice questions and additional practice exams for each of the certifications, as well as a comprehensive Instructor's Resource Manual, crossword puzzles, and flashcards.
Comprehensive content includes increased coverage of study skills and test-taking, EHR, ICD-10, and diseases and disorders.
Convenient outline format provides at-a-glance review and streamlines the subject areas typically found on the certification exams.
An Evolve companion website provides practice taking exams electronically, chapter review questions, crossword puzzles, and flashcards.
A Professionalism and Career Development chapter emphasizes the importance of presenting yourself in a professional manner.
UPDATED content covers the top 50 drugs most commonly encountered in practice, the latest standards from CAAHEP, ABHES and the NHA, and topics such as emergency preparedness and the electronic medical record.
UPDATED laboratory tests and normal values reflect current practice.

NEW! 3 more certifications are covered in this edition and include practice examinations on the Evolve companion website — CMAS (AMT), CCMA (NHA), and CMAA (NHA).
NEW! Correlation grids to certification test outlines and competencies align with current test outlines from certifying organizations.
NEW! 10 review questions per chapter are available on Evolve for additional practice.
NEW! Rationales are included on all practice exams to reinforce understanding.
NEW! Additional illustrations reinforce concepts and show equipment and supplies.

Study Tips

Pre-Test 1 (General)

Pre-Test 2 (Administrative)

Pre-Test 3 (Clinical)

1. Medical Terminology

2. Anatomy and Physiology

3. Diseases and Disorders

4. Growth and Development

5. Communication

6. Law, Ethics, and HIPAA

7. Professionalism and Career Development

8. Computer Concepts, Written Communications, and Mail Processing

9. Records Management (Paper Medical Records)

10. Electronic Medical Records

11. Patient Reception

12. Office Management

13. Finances

14. Coding

15. Health Insurance

16. Infection Control and Asepsis

17. Vital Signs and Anthropometric Measurement

18. Assisting with the Physical Examination

19. Assisting with Medical Specialties

20. Nutrition

21. Therapeutic Modalities and Physical Agents to Promote Tissue Healing

22. Radiography and Diagnostic Imaging

23. Pharmacology, Medication Administration, and Intravenous Therapy

24. Minor Surgery

25. Clinical Laboratory

26. First Aid and Office Emergencies

Post-Test

Pre-Test 1: Answer Key

Pre-Test 2: Answer Key

Pre-Test 3: Answer Key

Post-Test Answer Key

Deborah E. Holmes, RN, BSN, RMA, CMA(AAMA), Medical Assistant Program Director, Vatterott College - Sunset Hills, St. Louis, MO
In Stock
This item has low stock levels and may be back-ordered. We'll let you know if it is back-ordered, and you will not be charged until the item ships.