Dental Hygiene and Saunders: Dental Hygiene Procedures Videos Package, 4th Edition
Package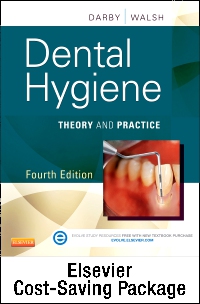 Free Shipping!
This item has low stock levels and may be back-ordered. We'll let you know if it is back-ordered, and you will not be charged until the item ships.
Featuring video demonstrations of key dental hygiene skills, Elsevier's Dental Hygiene Procedures Videos provide step-by-step instructions for many basic and advanced dental hygiene procedures. Narrated video along with closed-captioning makes it easy to follow along and learn to perform procedures before you work with actual patients. Video procedures range from patient assessment to periodontal instrumentation, preventive techniques, patient education, laboratory dental materials, care of periodontal and special needs patients, and administration of local anesthesia. Available online, Dental Hygiene Procedures Videos are an ideal supplement to lectures and laboratory demonstrations and a perfect study and preparation tool at home or on the go!
Please refer to the individual product pages for the duration of access to these products.
A total of 54 procedures are demonstrated step by step, with more than four hours of video showing skills that span the entire dental hygiene curriculum.
Core dental hygiene skills include assessment, instrumentation, prevention, patient education, and dental materials, plus additional procedures involving special patient types.
Local anesthetic injection videos provide detailed guidelines on this advanced and complex area of dental hygiene, useful for states in which administration by dental hygienists is permitted.
Streamlined video instruction bridges the gap between lectures and laboratory demonstrations, boosting your comprehension and better preparing you to care for patients.
A blend of video, audio narration, closed-captioning, and printable scripts is ideal for a variety of learning styles and needs.
Also available as a money-saving package with Darby and Walsh's textbook, Dental Hygiene: Theory and Practice, 4th Edition.

Assessment and Instrumentation
• Air Polishing Technique
• Basic Operator Positioning
• Conducting Extraoral Assessments
• Conducting Intraoral Assessments
• Conducting an Oral CDx Brush Biopsy
• Finishing and Polishing Amalgam Restorations
• Oral Deposit Assessment
• Rubber-Cup Polishing
• Ultrasonic and Sonic Instrumentation
• Using Area-Specific Curets
• Using the Anterior Sickle Scaler
• Using an Electric Pulp Tester to Determine Pulp Vitality
• Using the Periodontal Explorer
• Using the Periodontal Probe
• Using the Posterior Sickle Scaler
• Using the Universal Curet
Laboratory Dental Materials
• Constructing a Custom-Made Stent (a Single-Layer Mouth Guard, Fluoride Tray, or Tooth-Whitening Tray)
• Making a Mandibular Preliminary Impression
• Making a Maxillary Preliminary Impression
• Making a Wax-Bite Registration
• Mixing Alginate
• Pouring the Cast and the Base
• Selecting the Correct Tray Size and Preparing an Impression Tray
Local Anesthesia Administration
• Applying Oraqix Anesthetic
• Loading the Metallic or Plastic Cartridge-Type Syringe
• Local Anesthesia – Anterior Superior Alveolar Block
• Local Anesthesia – Basic Injection Technique
• Local Anesthesia – Gow-Gates Block
• Local Anesthesia – Greater Palatine Block
• Local Anesthesia – Inferior Alveolar Block
• Local Anesthesia – Infraorbital Block
• Local Anesthesia – Long Buccal Block
• Local Anesthesia – Mental/Incisive Block
• Local Anesthesia – Middle Superior Alveolar Block
• Local Anesthesia – Nasopalatine Block
• Local Anesthesia – Posterior Superior Alveolar Block
• Local Anesthesia – Supraperiosteal Injection
• Unloading the Metallic or Plastic Cartridge-Type Syringe
Patient Education and Preventive Techniques
• Applying Fluoride Professionally Using the Paint-On Technique
• Applying Fluoride Professionally Using the Tray Technique
• Applying Light-Cured Sealants
• Loop Flossing Method
• Spool Flossing Method for Adults
• Using a Floss Holder
• Using a Floss Threader
• Using an Interdental Brush
• Using a Rubber Tip Stimulator
• Using a Tongue Cleaner
• Using a Toothpick in a Toothpick Holder
• Using a Wooden Wedge
Periodontal Patient Care
• Placing Controlled-Release Drug: Doxycycline Gel
• Placing Controlled-Release Drug: Minocycline Hydrochloride Microspheres
Special Needs Patients
• One-Person Wheelchair Transfer
• Two-Person Wheelchair Transfer

Michele Leonardi Darby, BSDH, MS, Eminent Scholar, University Professor, Graduate Program Director, G.W. Hirschfield School of Dental Hygiene and Dental Assisting, College of Health Sciences, Old Dominion University, Norfolk, VA, Margaret Walsh, RDH, MS, MA, EdD, Professor, Department of Preventative and Restorative Dental Sciences, Graduate Program Director, Dental Hygiene Master of Science Program, School of Dentistry, University of California, San Francisco, San Francisco, CA and SAUNDERS