Equine Infectious Diseases - Elsevier eBook on VitalSource (Retail Access Card)
,
Elsevier eBook on VitalSource - Access Card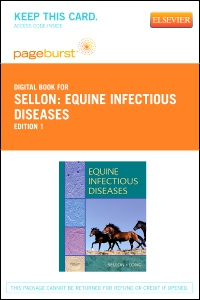 Or $0.00 with a valid access code
Free Shipping!
This item has low stock levels and may be back-ordered. We'll let you know if it is back-ordered, and you will not be charged until the item ships.
Ideal for both practitioners and students, this comprehensive resource covers the diagnosis, treatment, and prevention of infectious disease in horses. Organized by infectious agent — virus, bacterial and rickettsial, protazoal, and fungal — it includes complete coverage of the individual diseases caused by each type of agent. A section on clinical problems examines conditions such as ocular infections, CNS infections, and skin infections. It also addresses the importance of preventing and controlling infectious disease outbreaks with coverage of epidemiology, biosecurity, antimicrobial therapy, and recognizing foreign equine diseases.
Full-color photos and illustrations provide clear, accurate representations of the clinical appearance of infectious diseases.
Features the most recent information on the global threat of newly emergent diseases such as African Horse Sickness.
Includes a comprehensive section on the prevention and control of infectious diseases.
More than 60 expert contributors share their knowledge and expertise in equine infectious disease.
A companion CD-ROM, packaged with the book, includes complete references linked to PubMed.

I. Viral Diseases

1. Pathogenesis and Immunity in Viral Infections

2. Diagnosis of Viral Infections

3. Equine Influenza

4. Equine Herpesviruses

5. Equine Viral Arteritis

6. Equine Adenovirus

7. Equine Rhinoviruses

8. Equine Parainfluenzavirus

9. Equine Morbillivirus

10. Equine Rotavirus

11. Equine Coronavirus

12. Equine Bredavirus

13. Rabies

14. Alphavirus Encephalitides

15. Flavivirus Encephalitides

16. Borna Disease

17. Equine Infectious Anemia

18. African Horse Sickness

19. Vesicular Stomatitis

20. Papillomavirus Infections

21. Horse Pox

II. Bacterial and Rickettsial Diseases

22. Pathogenesis and Immunity in Bacterial Infections

23. Diagnosis of Bacterial Infections

24. Streptococcal Infections

25. Staphylococcal Infections

26. Rhodococcus equi

27. Miscellaneous Aerobic Gram Positive Bacterial Infections

28. Gram Negative Bacterial Infections

29. Endotoxemia

30. Salmonellosis

31. Enteric Clostridial Infections

32. Botulism and Tetanus

31. Systemic Clostridial Infections

32. Miscellaneous Anaerobic Infections

33. Leptospirosis

34. Lyme Borreliosis

35. Miscellaneous Bacterial Infections

36. Dermatophilosus

37. Actinomycosis and Nocardiosis

38. Mycobacterial Infections

III. Protozoal Diseases

39. Pathogenesis and Immunology of Protozoal Diseases

40. Diagnosis of Protozoal Diseases

41. Sarcocystis neurona Infection

42. Neosporosis and Toxoplasmosis

43. Babesiosis

44. Trypanosomiasis

45. Leishmaniasis

46. Theileriosis

47. Enteric Protozoal Infections

IV. Fungal Diseases

49. Pathogenesis and Immunology of Fungal Infections

50. Diagnosis of Fungal Infections

51. Pneumocystosis

52. Cryptosporidiosis

53. Coccidioidomycosis

52. Other Systemic Fungal Infections

53. Sporotricosis

54. Candidiasis

55. Dermatophytosis

56. Pythiosis and Zygomycosis

57. Miscellaneous Fungal Infections

V. Clinical Problems

58. Infections of Skin

59. Infections of Muscle, Joint and Bone

60. Cardiovascular Infections

61. Respiratory and Pleural Infections

62. Gastrointestinal and Peritoneal Infections

63. Hepatobiliary Infections

64. Reproductive Tract Infections

65. Urinary Tract Infections

66. Ocular Infections

67. Central Nervous System Infections

VI. Control and Prevention of Infectious Disease

68. Epidemiology of Infectious Disease Outbreaks

69. Biosecurity

70. Immunoprophylaxis

71. Antimicrobial Therapy

71. Immunotherapy

73. Control of Infectious Disease Outbreaks

74. Recognition of Foreign Animal Diseases

Appendices

Infectious Disease Rule-Outs for Medical Problems

Equine Immunization Recommendations

Antimicrobial Drug Formulary

Debra C. Sellon, DVM, PhD, DACVIM, Professor, Department of Veterinary Clinical Sciences, College of Veterinary Medicine, Washington State University, Pullman, WA and Maureen Long, DVM, PhD, DACVIM, College of Vet Medicine; University of Florida