Gould's Pathophysiology for the Health Professions - Elsevier eBook on VitalSource, 5th Edition
Elsevier eBook on VitalSource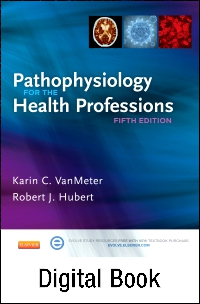 Or $0.00 with a valid access code
A concise, easy-to-understand introduction to the fundamentals, Gould's Pathophysiology for the Health Professions, 5th Edition helps you learn essential concepts of major diseases/disorders and disease processes. Continuing in its well-known tradition of readability and vivid, full-color illustrations, the text is updated with the latest research and trends in human disease. Disorders are described by body system, with coverage of the interactions between systems, and special features help you apply the material to real-life situations. No matter which healthcare field you may enter, Gould's Pathophysiology prepares you for the conditions encountered in clinical practice.
"Gould's Pathophysiology for the Health Professions can easily be incorporated into a course as a prescribed book to students in the health care professions. The authors of this book are commended for their contribution to the literature on pathophysiology and its application to the health professions." Reviewed by: Dr Benita Olivier, University of the Witwatersrand, Date: Oct 14
Concise and readable approach includes the information students need without overwhelming them, even if they have a limited scientific background.
Unique Challenge feature asks "What can go wrong with this structure or system?" as a way to help students facilitate progress by using previously learned knowledge.
Unique Think About boxes help with self-evaluation, test preparation, and review.
Unique Emergency Treatment boxes list basic emergency measures; these can be modified to fit specific professions, established protocols, or practice settings.
Research boxes discuss new developments, problem areas of pathophysiology, and complications associated with research.
Warning Signs boxes summarize conditions that may develop in patients.
Diagnostic tests and treatments are included for each of the major disorders.
Case studies in each chapter provide a basis for discussion or can be used as an assignment.
Study questions offer a self-assessment on the material in each chapter.
Ready References in the appendix provide a quick lookup for anatomic terms, conversion tables, abbreviations and acronyms, diagnostic studies and tests, and more.
A companion Evolve website includes web links, learning activities, content updates, and more.

New content on the causes and trends related to disease, new drugs, technology, and treatment.
Coverage of obesity and its complications, including an in-depth discussion of metabolic syndrome.
Multiple disorder syndromes in the aged client.
DNA, genetics and the Human Genome Project with current research on protein pathways in health (proteomics) and the implications for drug treatment and disease causation.
Coverage of autism.
Updated content on the H1N1 virus and communicable diseases; HIV, cancer causation, and immunology; and substance abuse to reflect common practices in the use of illicit (street) drugs as well as abuse of prescription medications.
Case studies revised to emphasize chronic diseases, prevention, and acute care, and to apply to a wider range of health professions.
Appendices reorganized for improved reference and lookup.

Section I: Pathophysiology: Background and Overview
1. Introduction to Pathophysiology
2. Fluid, Electrolyte, and Acid-Base Imbalances
3. Introduction to Basic Pharmacology and Other Common Therapies
4. Pain
Section II: Defense/Protective Mechanisms NEW!
5. Inflammation and Healing
6. Infection
7. Immunity
Section III: Pathophysiology of Body Systems
8. Skin Disorders
9. Musculoskeletal Disorders
10. Blood and the Circulatory System
11. Lymphatic System Disorders
12. Cardiovascular System Disorders
13. Respiratory System Disorders
14. Neurological Disorders
15. Eyes, Ears and Other Sensory Organs
16. Endocrine Disorders
17. Digestive System Disorders
18. Urinary System Disorders
19. Reproductive System Disorders
20. Neoplasms and Cancer
Section IV: Factors Contributing to Pathophysiology
21. Congenital and Genetic Disorders
22. Complications Due to Pregnancy
23. Complications Due to Adolescence
24. Complications Due to Aging
Section V: Environmental Factors and Pathophysiology
25. Immobility and Associated Problems
26. Stress and Associated Problems
27. Substance Abuse and Associated Problems
28. Environmental Hazards and Associated Problems
Appendixes: Ready References
Ready Reference 1: Body Planes, Cavities, Regions, Fluid Compartments, and Body Movements
Ready Reference 2: Anatomic Terms
Ready Reference 3: Conversion Tables
Ready Reference 4: Common Abbreviations and Acronyms
Ready Reference 5: Common Diagnostic Studies and Tests
Ready Reference 6: Example of a Medical History
Ready Reference 7: Disease Index
Ready Reference 8: Drug Index
Ready Reference 9: Additional Resources
Glossary

Karin C. VanMeter, PhD, Lecturer, Iowa State University, Department of Biomedical Sciences, College of Veterinary Medicine, Ames, Iowa and Robert J. Hubert, BS, Laboratory Coordinator, Iowa State University, Department of Animal Sciences, Ames, Iowa.