Atlas of Human Anatomy - Elsevier eBook on VitalSource (Retail Access Card), 5th Edition
Elsevier eBook on VitalSource - Access Card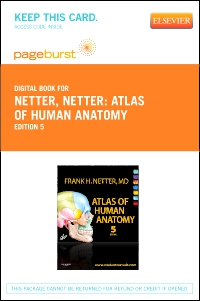 Or $0.00 with a valid access code
Free Shipping!
This item has low stock levels and may be back-ordered. We'll let you know if it is back-ordered, and you will not be charged until the item ships.
*A New Edition of this title is publishing in April 2014! ISBN: 978-1455758883 [There is also a paperback student version of the current edition available now - ISBN: 978-1416059516]
Atlas of Human Anatomy, Professional Edition uses Frank H. Netter, MD's detailed illustrations to illuminate anatomy and its relevance to medical practice. This 5th Edition features a stronger clinical focus than ever before, including an online image bank of some of Netter's classic anatomy and pathology illustrations along with many diagnostic imaging examples that capture anatomy the way it is most frequently seen in practice. At netterreference.com you can access the selected images and downloads as well as videos from Netter's 3-D Interactive Anatomy. Netter. It's how you know.
Vividly visualize the anatomy relevant to your practice, and educate your patients and staff, with hundreds of exquisite, hand-painted illustrations created by, and in the tradition of, pre-eminent medical illustrator Frank H. Netter, MD.
Leverage the Netter "visual vocabulary" you learned in medical school to grasp complex clinical concepts at a glance.

Correlate anatomy with practice through an increased clinical focus, many new diagnostic imaging examples, and new clinical illustrations online
Access valuable online resources at netterreference.com including an image bank of over 200 plates from the book, more than180 additional plates containing diagnostic imaging and clinical illustrations, and video samples from Netter's 3D Interactive Anatomy
Integrate the Netter Atlas with your other Netter clinical products at www.netterreference.com. Unlock the power of a wide Netter image bank for presentations and clinical use

Section 1 Head and Neck

Topographic Anatomy 1

Superficial Head and Neck 2 - 3

Bones and Ligaments 4 - 23

Superficial Face 24 - 25

Neck 26 - 34

Nasal Region 35 - 50

Oral Region 51 - 62

Pharynx 63 - 73

Thyroid Gland and Larynx 74 - 80

Orbit and Contents 81 - 91

Ear 92 - 98

Meninges and Brain 99 - 114

Cranial and Cervical Nerves 115 - 134

Cerebral Vasculature 135 - 146

Regional Scans 147 - 148

Section 2 Back and Spinal Cord

Topographic Anatomy 149

Bones and Ligaments 150 - 156

Spinal Cord 157 - 167

Muscles and Nerves 168 - 172

Cross-Sectional Anatomy 173 - 174

Section 3 Thorax

Topographic Anatomy 175

Mammary Gland 176 - 178 Body Wall 179 - 189

Lungs 190 - 204

Heart 205 - 223

Mediastinum 224 - 234

Regional Scans 235

Cross-Sectional Anatomy 236 – 239

Section 4 Abdomen

Topographic Anatomy 240

Body Wall 241 – 260

Peritoneal Cavity 261 – 266

Viscera (Gut) 267 – 276

Viscera (Accessory Organs) 277 – 282

Visceral Vasculature 283 – 296

Innervation 297 – 307

Kidneys and Suprarenal Glands 308 – 322

Cross-Sectional Anatomy 323 – 330

Section 5 Pelvis and Perineum

Topographic Anatomy 331

Bones and Ligaments 332 – 336

Pelvic Floor and Contents 337 – 347

Urinary Bladder 348 – 351

Uterus, Vagina, and Supporting Structures 352 – 355

Perineum and External Genitalia: Female 356 – 359

Perineum and External Genitalia: Male 360 – 367

Homologues of Genitalia 368 – 369

Testis, Epididymis, and Ductus Deferens 370

Rectum 371 – 376

Regional Scans 377

Vasculature 378 – 388

Innervation 389 – 397

Cross-Sectional Anatomy 398 – 399

Section 6 Upper Limb

Topographic Anatomy 400

Cutaneous Anatomy 401 – 405

Shoulder and Axilla 406 – 418

Arm 419 – 423

Elbow and Forearm 424 – 439

Wrist and Hand 440 – 459

Neurovasculature 460 – 467

Regional Scans 468

Section 7 Lower Limb

Topographic Anatomy 469

Cutaneous Anatomy 470 – 473

Hip and Thigh 474 – 493

Knee 494 – 500

Leg 501 – 510

Ankle and Foot 511 – 525

Neurovasculature 526 – 530

Regional Scans 531

Section 8 Cross=Sectional Anatomy

Key Figure for Cross Sections 532

Frank H. Netter, MD