Farm Animal Surgery - Elsevier eBook on VitalSource
,
Elsevier eBook on VitalSource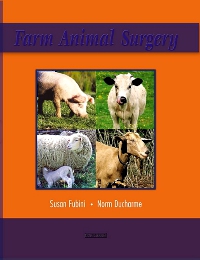 Or $0.00 with a valid access code
This is the only resource of its kind that provides practical field-tested surgical procedures for farm animals. Many procedures can safely be performed in the field as standing surgery using portable chutes that help keep the animals immobilized. Coverage includes key information on patient preparation, anesthesia concerns, fluid therapy, imaging options, and postoperative management.
This is the only book covering surgery of all these species of farm animals: cattle, goats, sheep, and swine
More than 500 figures clearly illustrate common disorders, techniques, and equipment for large animal surgery
Step-by-step surgical guidelines cover various procedures for each species by body system
Up-to-date, practical information on key surgical techniques and equipment
Uniquely qualified authors and contributors are experts in the field of large animal surgery

PART ONE: GENERAL PRINCIPLES
1. Examination of the surgical patient
2. Diagnostic imaging in the food animal
3. Neoplasia
4. Surgical considerations
5. Fluid therapy
6. Farm animal anesthesia
7. Postoperative management
PART TWO: BOVINE SURGERY
8. Surgery of the bovine integumentary system
9. Surgery of the bovine cardiac and respiratory systems
10. Surgery of the bovine digestive system
11. Surgery of the bovine musculoskeletal system
12. Surgery of the bovine reproductive system and urinary tract
13. Bovine ophthalmology
PART THREE: CALF SURGERY
14. Surgery of the calf gastrointestinal system
15. Surgery of the calf musculoskeletal system
16. Congenital anomalies in the calf
PART FOUR: SHEEP AND GOAT SURGERY
17. Surgery of the sheep and goat integumentary system
18. Surgery of the sheep and goat reproductive system and urinary tract
19. Surgery of the sheep and goat digestive system
20. Congenital anomalies in the sheep and goat
PART FIVE: SWINE
21. Surgery of the swine gastrointestinal system
22. Surgery of the swine reproductive system and urinary tract
23. Surgery of the swine musculoskeletal system
APPENDIX
1. Useful link regarding food residue
2. Antibiotic withdrawals in North America

Susan L. Fubini, DVM, Diplomate, ACVS Professor of Surgery Department of Veterinary Clinical Sciences Cornell University, Ithaca, NY and Norm Ducharme, DVM, Diplomate, ACVS Professor of Surgery Department of Veterinary Clinical Sciences Cornell University Ithaca, NY