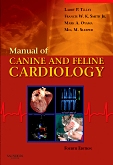 Publication Date:
12-14-2007
Manual of Canine and Feline Cardiology - Elsevier eBook on VitalSource, 4th Edition
Elsevier eBook on VitalSource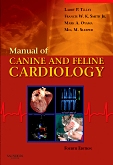 Publication Date:
12-14-2007
Or $0.00 with a valid access code
The most effective, practical approach to the recognition and management of cardiovascular and cardiopulmonary medicine, MANUAL OF CANINE AND FELINE CARDIOLOGY, 4th Edition takes a user-friendly approach to the challenges and conditions you encounter in everyday practice. This completely revised and updated edition includes vital information on diagnostic modalities and techniques, therapeutic options, surgical procedures, and pharmaceutical management of the dog and cat cardiac patient. This invaluable, practical reference covers the full breadth of canine and feline cardiology diagnosis and management in a straightforward and clinically focused format.
Covers common cardiovascular disorders and practical treatment methods for cardiac failure, cardiac arrhythmias, conduction disturbances, cardiopulmonary arrest, as well as procedures for resuscitation.
Includes numerous reproductions of electrocardiograms, thoracic radiographs, and pressure curves

Vibrant, full-color format helps important material stand out and includes vivid illustrations to aid in diagnosis and treatment.
A user-friendly format with bullet points, tables, key points, and boxes offers at-a-glance access to key information.
Cardiac Surgery chapter provides illustrated, step-by-step coverage of cardiovascular surgical procedures and techniques.
Chapters on Pacemaker Therapy and Cor Pulmonale and Pulmonary Thromboembolism expand the scope of coverage
A completely updated drug formulary presents the most current therapies used to pharmacologically manage cardiovascular disease.
Twenty-nine expert contributors share their knowledge and clinical exposure to ensure you are using the most trustworthy and up-to-date information available.

Section 1: Diagnosis of Heart Disease

1. The History and Physical Examination

2. Radiology of the Heart

3. Electrocardiography

4. Echocardiography and Doppler Ultrasound

5. Special Diagnostic Techniques for Evaluation of Cardiac Disease

Section 2: Cardiovascular Diseases

6. Acquired Valvular Disease

7. Canine Cardiomyopathy

8. Feline Cardiomyopathy

9. Cor Pulmonale and Pulmonary Thromboembolism–NEW!

10. Canine and Feline Heartworm Disease

11. Cardiac Tumors and Pericardial Disease

12. Congenital Heart Disease

13. Cardiovascular Disorders in Systemic Diseases

14. Systemic Hypertension

Section 3: Treatment of Cardiovascular Disease

15. Pathophysiology and Therapy of Heart Failure

16. Treatment of Cardiac Arrhythmias and Conduction Disturbances

17. Cardiopulmonary Arrest and Resuscitation

18. Emergency Management and Critical Care

19. Anesthesia of the Cardiac Patient

20. Cardiac Surgery–NEW!

21. Pacemaker Therapy–NEW!

Appendices

1. Canine Breed Predilections for Heart Disease

2. Common Cardiovascular Drugs

3. Echocardiographic Normals by Body Weight and Breed

4. CHIEF Classification System of Canine Congestive Heart Failure–NEW!

Index

Francis W. K. Smith, DVM, DACVIM (Internal Medicine & Cardiology), Vice President, VetMed Consultants, Inc., Lexington, MA; Clinical Assistant Professor, Department of Medicine, Cummings School of Veterinary Medicine, Tufts University, North Grafton, MA, Larry P. Tilley, DVM, DACVIM(Internal Medicine), President, VetMed Consultants, Inc., Consultant, New Mexico Veterinary Specialty Referral Center, Santa Fe, NM, Mark Oyama, DVM, DACVIM(Cardiology), Associate Professor, Department of Clinical Studies, School of Veterinary Medicine, University of Pennsylvania, Philadelphia, PA and Meg M. Sleeper, VMD, DACVIM(Cardiology), Clinical Professor, Cardiology, Department of Small Animal Clinical Sciences, School of Veterinary Medicine, University of Florida, Gainsville, FL, USA