Small Animal Pediatrics - Elsevier eBook on VitalSource
,
Elsevier eBook on VitalSource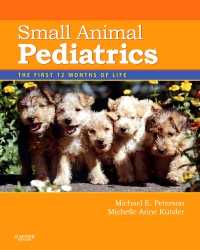 Or $0.00 with a valid access code
A practical reference for the general veterinary clinician, Small Animal Pediatrics: The First 12 Months of Life compiles into a single location the latest information in the rapidly developing field of canine and feline pediatrics. Editors Michael Peterson, DVM, MS, and Michelle Kutzler, DVM, PhD, DACT are joined by more than 40 expert contributors in providing coverage from prenatal care to one year of age. For ease of use, the text is divided into four sections. A General Considerations section opens the book by covering prenatal care of the bitch and queen, birth, normal physical examinations, growth, husbandry, nutrition, care of orphans, neonatal mortality, behavior, emergency and critical care, and immunology. The second section, Common Infectious Diseases, covers bacterial, viral, fungal, rickettsial, and parasitic infections. The third section describes diagnostic and therapeutic approaches to the young patient including radiology, ultrasound, aesthetic and surgical considerations, pain management, pharmacology, and clinical pathology. Finally, the fourth section covers a variety of organ systems with discussions on normal development, congenital conditions, and acquired diseases. The text also includes information that is usually difficult to find, including a pediatric formulary, care of orphan puppies, clinical pathology values, prenatal care, and normal growth and development guidelines. This book will be a significant asset to any veterinary library!
Offers a practical, clinically oriented resource for the unique diagnostic and treatment challenges posed by pediatric and juvenile animal patients.
Includes comprehensive coverage of all special problems encountered in pet management from birth through the first 12 months of life.
Provides clear, step-by-step guidelines for important clinical procedures and techniques for the most vulnerable of small animal patients.
Covers procedures such as intraosseous catheterization and fluid therapy, venipuncture, and tube feeding.
Includes guidelines for designing and implementing a successful pediatric wellness program tailored to your own practice.
Discusses infectious diseases in young animals, zoonotic potential, and human public health concerns.
Provides key new information on puppy and kitten behavioral development including guidance for prevention and intervention for problem behaviors, the leading cause of pet euthanasia.
Includes guidelines for kennel and cattery health management as well as shelter medicine health considerations.
Discusses controversial health and ethical issues in veterinary pediatrics, such as ear cropping, tail docking, declawing, and early spay/neuter surgery (including both pro and con positions).
Includes the latest recommendations for nutritional care of healthy and "special needs" puppies and kittens as well as the post-parturient and nursing dam.
Offers an easy-to-use, well-organized format for quick and easy access to the most relevant information.

Section I: General Considerations

Prenatal Care of the Bitch and Queen
Birth and the First 24 Hours
History and Physical Examination of the Neonate
History and Physical Examination of the Weanling and Adolescent
Growth
Husbandry of the Neonate
Standards of Care in Pediatrics
Nutritional Requirements and Feeding of Growing Puppies and Kittens
Care of the Orphaned Puppy and Kitten
Emergency and Critical Care Issues
Neonatal and Pediatric Mortality
Feline Behavioral Development
Canine Behavioral Development
Immunologic Development and Immunization

Section II: Common Infectious Diseases in Puppies and Kittens

Bacterial Infections
Viral Infections
Fungal Infections
Diseases Formerly Known as Rickettsial: The Rickettsioses, Ehrlichioses, Anaplasmoses, and Neorickettsial and Coxiella Infections
Parasitic and Protozoal Diseases
Approach to the Febrile Patient

Section III: Diagnostic and Therapeutic Approaches to the Pediatric Patient

Radiographic Considerations of the Young Patient
Ultrasonography of the Young Patient
Anesthesia in the Pediatric Patient
Surgical Considerations in the Young Patient
Pediatric Fracture Management
Pain Assessment and Management
Pharmacological Considerations in the Young Patient
Toxicological Considerations in the Young Patient
Effective Use of a Veterinary Medical Diagnostic Laboratory
Clinical Chemistry of the Puppy and Kitten
Postmortem Examination of the Puppy and Kitten

Section IV: Systematic Clinical Approach to Diagnosis and Treatment of Pediatric Conditions

The Cardiovascular System
The Hematologic and Lymphoid Systems
The Respiratory System
Dentistry and the Oral Cavity
The Gastrointestinal Tract
The Liver, Biliary Tract, and Exocrine Pancreas
The Urinary System
The Reproductive Tract
The Neurologic System
The Skin and Ear
The Musculoskeletal System
The Eye
Clinical Approach to Nutritional Conditions
The Endocrine System
Selected Zoonotic Diseases: Puppies and Kittens

Michael E. Peterson, DVM, MS, Reid Veterinary Hospital, Albany, OR, USA and Michelle Kutzler, DVM, PhD, DACT, Assistant Professor, College of Veterinary Medicine, Oregon State University, Corvallis, OR, USA