Veterinary Hematology - Elsevier eBook on VitalSource
,
Elsevier eBook on VitalSource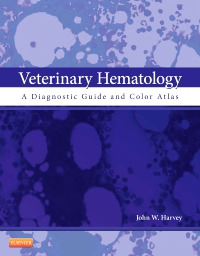 Or $0.00 with a valid access code
Combining essential hematology content with the diagnostic features of an atlas, Veterinary Hematology: A Diagnostic Guide and Color Atlas delivers all the information you need to accurately assess and diagnose the blood diseases of common domestic animals — including dogs, cats, horses, cattle, sheep, goats, pigs, and llamas. This all-in-one resource utilizes a clinically-oriented and user-friendly approach to guide you through the processes of selecting relevant diagnostic tests, collecting and preparing samples, interpreting sample results, and determining their clinical significance. High-resolution photomicrographs, full-color illustrations, and excellent schematic drawings, tables, and quick-reference algorithms help you clearly visualize these concepts and procedures.
Two books in one gives you the information of a user-friendly, clinical textbook and the diagnostic features of a color atlas in a single reference.
Practical, clinically-relevant text is comprehensive and yet concise in its delivery of vital information such as:

Principles and procedures that are employed in recognizing normal, abnormal, and artifactual features of blood and bone marrow samples and developing accurate diagnoses
Common cytochemical stains and summary charts for interpretation
Sample collection, staining procedures, and diagnostic techniques

Differentiating features of malignant and benign hematologic disorders
Miscellaneous cells and blood parasites and their significance in the evaluation of blood smears
Hematopoietic and non-hematopoietic neoplasms

High- resolution photomicrographs and excellent schematic drawings, tables, boxes and quick-reference algorithms aid your understanding of basic clinical concepts and differential diagnostic considerations.
Over 800 full-color illustrations help you clearly visualize the concepts and clinical features of the blood and bone marrow — from normal cell maturation to the development of various pathologies.

1. Introduction to Veterinary Hematology

2. Hematology Procedures

3. Hematopoiesis

4. Evaluation of Erythrocytes

5. Evaluation of Leukocytic Disorders

6. Immunohematology

7. Evaluation of Hemostasis: Coagulation and Platelet Disorders

8. Bone Marrow Examination

9. Disorders of Bone Marrow

Appendix I. Tables

Appendix II. Algorithms

Appendix III. Case Studies

John W. Harvey, DVM, PhD, DACVP, Executive Associate Dean, College of Veterinary Medicine, University of Florida, Gainesville, FL