Carranza's Clinical Periodontology - Elsevier eBook on VitalSource
, 11th Edition
Elsevier eBook on VitalSource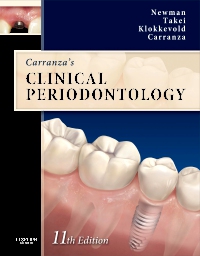 Or $0.00 with a valid access code
The most widely used periodontics text, Carranza's Clinical Periodontology provides both print and online access to basic procedures as well as the latest in advanced procedures and techniques in reconstructive, esthetic, and implant therapy. Not only does this book show how to do periodontal procedures, it describes how to best manage the outcomes and explains the evidence supporting each treatment. Written by leading experts Michael Newman, Henry Takei, Perry Klokkevold, and Fermin Carranza, along with a pool of international contributors, this edition also discusses the close connection between oral health and systemic disease. A new Expert Consult website includes the entire, fully searchable contents of the book, and takes learning to a whole new level with content updates, videos, a drug database, and much more.
NOTE: The current Expert Consult platform will be discontinued at the end of 2014, and this title will no longer be available on Expert Consult after December 31st, 2014.
To learn more about the new Expert Consult experience - and shop for hundreds of interactive titles - please visit the new Expert Consult today!
Comprehensive coverage describes all aspects of periodontics in a single volume, including periodontal pathology, the etiology of periodontal diseases, the relationship between periodontal disease and systemic health, treatment of periodontal diseases, oral implantology, supportive treatment, and ethics, legal, and practical matters.
Problem-solving, scenario-based learning opportunities use well-documented case reports to help you learn both basic and advanced procedures and techniques.
'Speed to competence' is enhanced with access to print, online, and mobile platforms.
A unique approach combines evidence-based decision-making, science transfer, and classification/nomenclature throughout every chapter.
A one-of-a-kind Genetic Factors and Periodontal Disease chapter examines the role of genetic factors in gum disease.
In-depth information serves as an excellent foundation in preparing for the National Board Dental Exam.

Expert Consult website offers fast, reliable online access to advanced material, videos, an image collection, a drug database, interactive flash cards, multiple-choice test questions, interactive references, and Pathology Consult -- plus, the entire contents of the book are fully searchable.

Find core information in the book; additional, advanced information is provided online.
Consult your book from any computer, anywhere in the world, for the entire life of this edition.
Keep current with regular updates of the latest periodontal news and information.
Follow links from biographical citations to the corresponding MEDLINE abstracts.
See a comprehensive library of pathology photos.

Coverage of the latest advances includes the emerging link between periodontal disease and systemic health.
Full-color illustrations depict the newest developments in surgical technology.
A new Multidisciplinary Approach to Dental and Periodontal Problems chapter discusses the importance of collaborative care in the practice of periodontics.
Etiology of Periodontal Diseases (Part 4) provides a more comprehensive background in periodontal anatomy, physiology, and pathogenesis.

1. Historical Background of Periodontology

Part 1: The Normal Periodontium

2. Anatomy of the Periodontium

3. Aging and the Periodontium

Part 2: Classification and Epidemiology of Periodontal Diseases

4. Classification of Diseases and Conditions Affecting the Periodontium

5. Epidemiology of Gingival and Periodontal Diseases

Part 3: Periodontal Pathology

Section 1: Gingival Diseases

6. Defense Mechanisms of the Gingiva

7. Gingival Inflammation

8. Clinical Features of Gingivitis

9. Gingival Enlargement

10. Acute Gingival Infections

11. Gingival Diseases in Childhood

12. Desquamative Gingivitis

Section 2: Periodontal Diseases

13. The Periodontal Pocket

14. Bone Loss and Patterns of Bone Destruction

15. Periodontal Response to External Forces

16. Chronic Periodontitis

17. Necrotizing Ulcerative Periodontitis

18. Aggressive Periodontitis

19. Pathology and Management of Periodontal Problems in Patients with HIV Infection

Section 3: Masticatory System Disorders

20. Masticatory System Disorders

Part 4: Etiology of Periodontal Diseases

21. Periodontal Pathogenesis new!

22. The Role of Dental Calculus and Other Predisposing Factors

23. Microbiology of Periodontal Disease

24. Genetic Factors and Periodontal Disease

25. Molecular Biology of Host-Bacterial Interactions NEW!

26. Smoking and Periodontal Disease

Part 5: Relationship Between Periodontal Diseases and Systemic Health

27. Influence of Systemic Disorders on the Periodontium

28. Impact of Periodontal Infection on Systemic Health

29. Oral Malodor

Part 6: Treatment of Periodontal Diseases

Section 1: Diagnosis, Prognosis and Treatment Plan

30. Clinical Diagnosis

31. Radiographic Aids in the Diagnosis of Periodontal Diseases

32. Clinical Risk Assessment

33. Determination of Prognosis

34. Treatment Plan

35. Rationale for Periodontal Treatment

36. Levels of Clinical Significance

37. Periodontal Treatment of Medically Compromised Patients

38. Periodontal Treatment of the Female Patient

39. Periodontal Treatment of Older Adults

40. Treatment of Aggressive and Atypical Forms of Periodontitis

Section 2: Treatment of Periodontal Emergencies

41. Treatment of Acute Gingival Diseases

42. Treatment of the Periodontal Abscess

Section 3: Nonsurgical Therapy

43. Phase 1 Periodontal Therapy

44. Plaque Control for the Periodontal Patient

45. Scaling and Root Planing

46. Sonic and Ultrasonic Instrumentation and Irrigation

47. Antimicrobial Agents

48. Host Modulation

49. Occlusal Evaluation and Therapy

50. Adjunctive Role of Orthodontic Therapy

51. The Periodontic-Endodontic Continuum

Section 4: Surgical Therapy

52. Phase 2 Periodontal Therapy

53. Surgical Anatomy of Periodontal and Implant Areas

54. General Principles of Periodontal Surgery

55. Conscious Sedation NEW!

56. Gingival Surgical Techniques

57. The Periodontal Flap

58. Treatment of Gingival Enlargement

59. The Flap Technique for Pocket Therapy

60. Resective Osseous Surgery

61. Reconstructive Periodontal Surgery

62. Treatment of Furcation Involvements

63. Plastic and Esthetic Surgery of the Periodontium

64. Technological Advances in Periodontal Surgery

Section 5: Periodontal-Restorative Interrelationships

65. Preparation of the Periodontium for Restorative Dentistry

66. Periodontal-Restorative Interrelationships

67. Multidisciplinary Approach to Dental and Periodontal Problems NEW!

Part 7: Oral ImplantologySection 1: Biology and Diagnosis

68. Periimplant Anatomy, Biology and Function

69. Clinical Evaluation of the Implant Patient

70. Diagnostic Imaging of the Implant Patient

Section 2: Surgical Procedures

71. Standard Implant Surgical Procedures

72. Localized Bone Augmentation and Implant Site Development

73. Advanced Implant Surgical Procedures

74. Esthetic Management of Difficult Cases NEW!

75. Technological Advances in Implant Surgery

Section 3: Biomechanics and Complications

76. Biomechanics, Treatment Planning and Prosthetic Considerations

77. Implant Related Complications and Failures

Part 8: Supportive Treatment and Results of Treatment

78. Supportive Periodontal Treatment

79. Results of Periodontal Treatment

80. Results of Implant Treatment NEW!

Part 9: Complementary Topics -- Online Only

Section 1: Evidence-Based Decision Making

81. Evidence-based Decision Making

82. Assessing the Evidence

83. Implementing Evidence-based Decision Making in Clinical Practice

Section 2: Ethical, Legal and Practical Matters in the Management of Periodontal Patients -- ed.: Newman

84. Dental Ethics, Legal Principles and Jurisprudence

85. Periodontal Treatment in Practice, Dental Insurance, Managed Care

Section 3: Atlas of Oral Medicine -- ed.: Newman

86. Lesions of the Oral Mucosa, Bone and Other Structures

Michael G. Newman, DDS, Professor Emeritus, Section of Periodontics, School of Dentistry, University of California, Los Angeles, CA, Henry Takei, DDS, MS, Distinguished Clinical Professor, Section of Periodontics, Clinical Professor, Section of Periodontics, School of Dentistry, University of California, Los Angeles, CA, Perry R. Klokkevold, DDS, MS, Associate Professor, Section of Periodontics, Program Director, Postgraduate Periodontics Residency, School of Dentistry, University of California, Los Angeles, CA and Fermin A. Carranza, Dr. ODONT, Professor Emeritus, Section of Periodontics, School of Dentistry, University of California, Los Angeles, CA