Understanding Pharmacology - Elsevier eBook on Intel Education Study (Retail Access Card)
,
Elsevier eBook on Intel Education Study - Access Card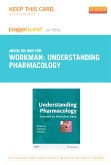 Free Shipping!
This item has low stock levels and may be back-ordered. We'll let you know if it is back-ordered, and you will not be charged until the item ships.
Clear and straightforward, Understanding Pharmacology: Essentials for Medication Safety helps you understand how drugs work and how to administer them safely. That means you won't have to resort to rote memorization of drug information to avoid making medication errors! Written by noted educators M. Linda Workman, PhD, RN, FAAN, Linda A. LaCharity, PhD, RN, and Susan L. Kruchko, MS, RN, Understanding Pharmacology clarifies difficult concepts and prepares you to handle today's new drugs and drug classes. It provides complete preparation for licensure exams and for clinical practice.
Clear, consistent chapter format facilitates learning:

Objectives
Key Terms with phonetic pronunciations and page references
Review of Related Physiology and Pathophysiology
Types of Drugs Prescribed, including how each works; dosages with intended responses, side effects, and adverse effects; what to do before administering; what to check after administering; and what to teach patients
Get Ready for Practice! with Key Points, Additional Learning Resources, Review Questions, and Critical Thinking Activities

Animations and video clips are included on the companion Evolve website.
Everyday terminologys is used, with technical terms following in parentheses.
A math and dosage calculation review minimizes "math anxiety" and promotes medication safety.
Try This! boxes let students practice math and dosage calculation concepts as they learn them.
Common Side Effects boxes use clever, easy-to-recognize icons to emphasize the side effects of drugs.
Drug Alert!, Memory Joggers, Do-Not-Confuse, and Clinical Pitfall boxes highlight important tips for safe medication administration.
Did You Know? boxes relate pharmacology content to everyday life.
Wide margins provide plenty of room for note-taking.
Examination-style review questions end each chapter, and include alternate item format questions.

Part One: Overview of Pharmacology 1. Drug Actions and Body Responses 2. Safely Preparing and Giving Drugs 3. Teaching Patients About Drug Therapy Part Two: Mathematics in Pharmacology 4. Medical Systems of Weights and Measures 5. Mathematics Review and Introduction to Dosage Calculation 6. Dosage Calculation of Intravenous Solutions and Drugs Part Three: Clinical Categories and Uses of Drugs 7. Drugs for Pain and Sleep Problems 8. Anti-inflammatory Drugs 9. Anti-infective Drugs: Antibacterial Drugs 10. Anti-infective Drugs: Antiviral Drugs 11. Anti-infective Drugs: Antitubercular and Antifungal Drugs 12. Drugs that Affect Urine Output 13. Drugs for Hypertension 14. Drugs for Heart Failure 15. Antidysrhythmic Drugs 16. Drugs for High Blood Lipids 17. Drugs that Affect Blood Clotting 18. Drugs for Asthma and Other Respiratory Problems 19. Drugs for Nausea, Vomiting, Diarrhea, and Constipation 20. Drugs for Gastric Ulcers and Reflux 21. Drugs for Seizures 22. Drugs for Depression, Anxiety, and Psychosis 23. Drugs for Parkinson's and Alzheimer's Disease 24. Drugs for Endocrine Problems 25. Drugs for Diabetes 26. Drugs for Glaucoma 27. Drugs for Cancer Therapy Answer Key General Index Disorders Index

M. Linda Workman, PhD, RN, FAAN, Formerly, Gertrude Perkins Oliva Professor of Oncology, Case Western Reserve University, Cleveland, Ohio, Linda A. LaCharity, PhD, RN, Formerly, Accelerated Program Director and Assistant Professor, College of Nursing, University of Cincinnati, Cincinnati, Ohio and Susan L. Kruchko, MS, RN