Online ECG Companion for ECGs Made Easy, 5th Edition
Online Course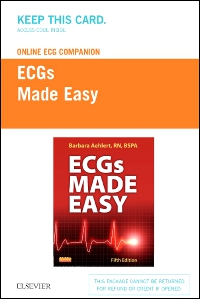 Or $0.00 with a valid access code
Designed as a companion to ECGs Made Easy, 5th Edition, this online supplement reinforces concepts found in the textbook with dynamic videos, animations, and interactive exercises. Its content is organized to parallel the text's table of contents; most of the chapters include a Scenario Challenge case study with a sample rhythm strip and relevant clinical information for additional practice with ECG recognition. Developed by Barbara Aehlert, this online companion brings even the most difficult ECG concepts to life!
Duration for access to this product is for the life of the edition.
Some content has been removed from this site because Flash is no longer supported on web browsers.
Scenario Challenge case studies let you practice ECG recognition with sample rhythm strips, and learn about possible patient symptoms.
An on-screen cardiac ruler — called the ECG Analyst — helps you take measurements of an ECG tracing and then answer questions about the case.
45 additional rhythm strips are available for practice in measuring and identifying ECGs.
A summary of important concepts concludes each online chapter for easier review.
A comprehensive, beginning-to-end review challenges you to identify 50 rhythms by examining tracings and viewing rhythms on oscilloscopes as if on a real ECG monitor.
Automatically scored assessments include chapter quizzes and a final post-test.

1. Anatomy and Physiology

2. Basic Electrophysiology

3. Sinus Mechanisms

4. Atrial Rhythms

5. Junctional Rhythms

6. Ventricular Rhythms

7. Atrioventricular (AV) Blocks

8. Pacemaker Rhythms

9. Introduction to the 12-Lead ECG

10. Post-Test

Barbara Aehlert, MSEd, BSPA, RN, Southwest EMS Education, Inc, 11127 SW County Road 4180, Purdon, Texas 76679