Online Course for Teaching Job Readiness for Health Professionals: Soft Skills Strategies for Success
Online Course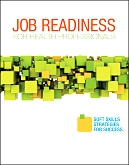 Or $0.00 with a valid access code
A unique online program, Teaching Job Readiness for Health Professionals makes it easy for instructors to integrate soft, 'professional' skills into lectures and coursework. Narrated, interactive modules guide your teaching of each skill — always providing real-world applications and ideas for student involvement. Designed to accompany the text Teaching Job Readiness for Health Professionals: Soft Skills Strategies for Success, this online course offers a well-rounded approach to soft skills education and shows how you can teach professional behavior confidently and effectively.
Duration for access to this product is for the life of the edition.
Some content has been removed from this site because Flash is no longer supported on web browsers.
Self Check activities test the instructor's understanding of content with fill-in-the-blank, essay prompts, matching, and multiple-choice questions.
Narrated, interactive modules present information in an engaging way, with real-world applications to demonstrate the teaching of each skill.
Guidelines and ideas for teaching are directly tied to the Job Readiness for Health Professionals text.
Certificate of Completion is earned by instructors upon completing the course.
Themes to Consider screens highlight the concepts you will teach in each module.
Learn More links to reputable websites and articles provide a broader perspective of key topics along with real-world examples to share with your students.

Who Are You?
Ready for Work
Gaining Energy and Reducing Stress
Being Easy to Deal With
Dealing with Others
Speaking and Writing Professionally
Interacting Successfully
Planning for Career Success
Enhancing Your Promotability
Building Personal Emotional Strengths
Managing Your Emotions
Go Forth and Prosper

Elsevier